Fall festive cocktails to enjoy around a firepit
November 02, 2021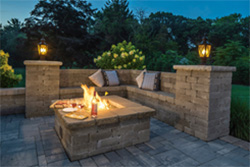 Fall is officially here which means it's time to grab your delicious fall cocktails and gather around the cozy firepit! Autumn brings with it some of the most beautiful flavors: fruits like figs, apples, and pear, and spices like cinnamon, pumpkin, and nutmeg. There's no better time to start incorporating these rich flavors into your drinks and capture all the best parts of the season! Bring your drinks outside and enjoy the warmth from your Cambridge firepit while spending quality time with your whole family. Sweeten the glow of your nights by the fire with these creative fall inspired cocktails.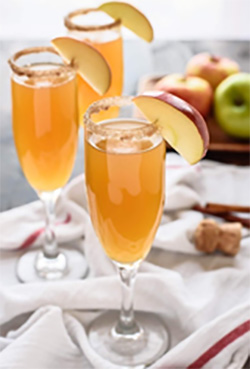 Apple Cider Mimosa
Looking for something simple and festive? An apple cider mimosa is super delicious and refreshing. Its warm spices and bubbly goodness give bursts of flavor everyone will love! (recipe and photo courtesy of wellplated.com)
What you'll need:
For the apple Cider Mimosas:
• 2 ounces brandy or dark rum
• 4 ounces apple cider
• 8 ounces chilled champagne prosecco, or other sparkling wine
• Optional: Apple slices for garnish
To Rim the glasses:
• 2 tablespoons granulated sugar
• ½ teaspoon ground cinnamon, pumpkin pie spice is also tasty if you have it on hand
• Additional apple cider
Directions:
1. Rim the glasses: In a shallow bowl, stir together the sugar and cinnamon. In a separate shallow bowl, pour a few tablespoons of apple cider. Wet the edges of the glasses in the apple cider, then tap the wet edges in the cinnamon and sugar mixture to rim.

2. Pour 1 ounce of brandy or rum and 2 ounces apple cider in each glass. Top with 4 ounces of champagne. Enjoy immediately, garnished with apple slices as desired.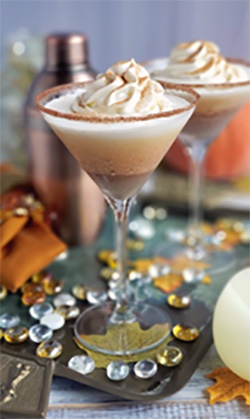 Pumpkin Pie Martini
This unique martini puts a whole new spin on what you should be drinking this fall. It resembles a pumpkin pie, but instead of eating it, you'll be drinking it! (recipe and photo courtesy of noblepig.com)
What you'll need:
Frozen whipped cream (optional):
• ½ cup heavy cream
• 2 tbsps confectioner's sugar
Cocktail:
• 2-3 tsps cinnamon sugar for the rim
• ¼ cup vanilla vodka such as Absolut brand
• ¼ cup Creme de Cacao liqueur (clear)
• ½ cup heavy cream
• 1-½ tsps pumpkin pie spice, more for sprinkling on top
Directions:
1. Dip the edges of your martini glasses in water or Creme de Cacao. Shake off any extra liquid and dip the edges into cinnamon-sugar.

2. Chill prepared martini glasses in the freezer or the fridge at least thirty minutes before serving

3. If you are going to make the frozen whipped cream you'll want to do this before making the cocktail. The frozen whipped cream can be made up two days in advance and can hang out in the freezer until you're ready to use it. Add heavy cream and confectioners' sugar to a bowl. Whip cream until stiff peaks form. Place whipped cream into a pastry bag fitted with a large tip (any shape). Pipe whipped cream into round towers on a parchment lined tray (will make four). Place in the freezer immediately and at least 30 minutes.

4. For the cocktail, fill a cocktail shaker halfway with ice. Add the vodka, Creme de Cacao, heavy cream and pumpkin pie spice. Shake well (at least fifty time vigorously). Strain into chilled martini glasses. Place frozen whipped cream towers on top of the drinks and sprinkle lightly with additional pumpkin pie spice.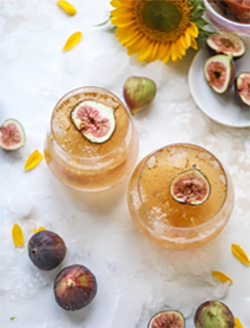 Brown Sugar Fig Bubbly
The perfect cocktail to cozy up to and welcome fall! This elegant cocktail is autumn spiced and tastes as good as it looks! (recipe and photo courtesy of howsweeteats.com)
What you'll need:
• 10 to 12 ripe figs sliced and stems removed, plus a few extra for garnish
• 2 tablespoons brown sugar
• The juice of 1 lemon
• 1750 ml chilled bottle of prosecco
Directions:
1. Note: if you have reeeeally small figs, there might be a chance that you need a few more. Make sure the figs are soft and ripe and juicy!

2. In the bottom of a large glass or jar, add the figs, the brown sugar and the lemon juice. Use a cocktail muddler to mash and muddle the mixture for a full 5 minutes or so, until the figs break down and you have a syrupy mix. You can remove large pieces of the fig skin at this time too.

3. Add ice to the glass (crushed or cubed - your choice!) and add in your fig mixture. You can do 2 to 3 tablespoons per glass or just divide it evenly. Top each glass with prosecco, add a sliced fig in there and serve!
As the temperature goes down, heat that firepit up, grab your tasty fall drinks, and head outdoors!