The perfect time to boost curb appeal is now!
November 03, 2021
Imagine walking down a street and seeing a house that's so mesmerizing, you can't help but to stop and stare. The lawn is flawless, the vibrant flowers are blooming, and the driveway is the grand entrance! The house looks inviting and its exterior is immaculate. That's curb appeal. The attractiveness of your house from the outside will help to increase your home's value up to 15% and make your neighbors envious of your beautiful home!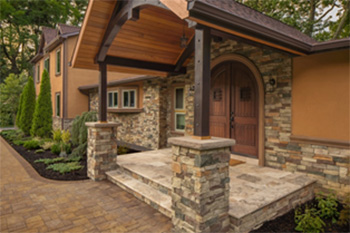 DRIVEWAY
Give your guests a warm welcome during the holiday season by boosting that curb appeal! Define your driveway with pavers` to create that "finished" look.
Cambridge Pavers offer a wide range of paving stones that will seamlessly complement the outside of your home. First impressions are everything, now is the perfect time to renovate and upgrade your entryway and driveway.
STONE VENEER
Wow your guests as they pull up to your home with our stone veneers! These give your home a modern, refreshed look! Stone veneers are the perfect way to add texture and color variance to certain parts of your home.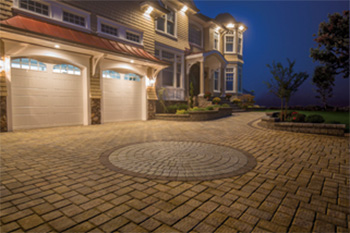 DETAILS
It's all in the details! Highlight your front yard by adding lush landscaping. Landscaping elements make your home stand out from the rest on your block creating depth and an array of vibrant colors. Illuminate your entryway by adding hardscape lightning! Hardscape lighting will help highlight your entryway, prevent falls, and light up those cool Fall nights!
Entice your guests as they enter your home and boost your home's curb appeal. Whether it be walkways, steps, driveway or retaining walls you'll be sure to leave a first impression that will last a lifetime!