Snow and your Pavingstones
December 01, 2021
Throughout the warmer months, you've probably spent a lot of time and effort creating the perfect outdoor oasis. Now that winter is right around the corner, it's time to prepare your hardscaping surfaces for the upcoming snow and winter months. As the days begin to get shorter and colder, keep your hardscaping in mind. Make sure you take proper care of your investment this holiday season!
Outdoor kitchen
The first thing you need to do to prepare your outdoor space for the winter is remove your plush furniture from your patio to prevent any damage to the material. To continue enjoying your outdoor space for years to come, you will need to ensure your outdoor kitchen is prepared for the winter weather. It is essential to clean and polish your outdoor grill and protect its exterior with a durable cover (if you know you won't be using it during the winter). Make sure to disconnect the gas line and shut off all the water lines. To enjoy your outdoor space in the future, it's important to give your patio and amenities the maintenance and care they deserve!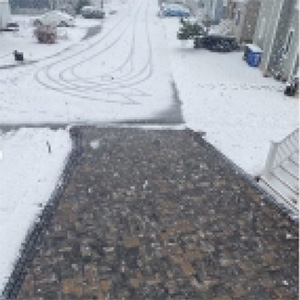 Patio
Although most pavers are designed to hold up during harsh Winter weather, consider these tips to ensure your pavingstones will look as good as new! As the snowflakes start to pile on, having the right snow equipment is key. Look for shovels with the proper rubber blade guards to protect the surface of your pavers and ensure you won't scratch or leave scuff marks. To increase traction on your pavers, use a salt-free de-icing substance or sand to provide skid and slip resistance. We recommend using only sodium chloride, do not use any products that contain a blend of chemicals. Apply your deicer sparingly and remove loosened snow and ice to avoid any excess build-up. Maintaining your patio pavers is easy once you learn the right methods and steps to avoid unnecessary damage!
You've worked hard to create your outdoor space, it's important to put in effort and time to protect your investment during the colder months!