Hosting a Holiday Cocktail Hour Outdoors
December 02, 2021
The holiday season is all about spending quality time with your loved ones. This year, host an unforgettable cocktail party before dinner outdoors. Decorate your yard with holiday lights and put out delicious snacks for everyone to enjoy while sipping holiday inspired cocktails!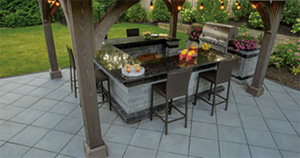 Outdoor Kitchen
Eliminate the stress of running in and out the house by utilizing your Cambridge outdoor kitchen. This will allow you to enjoy quality time with your guests and take the stress off you as a host. Make some delicious and easy foods right in your outdoor space, so you don't have to worry about cleaning up a mess inside. A platter of crudités and coconut shrimp are always a crowd pleaser. Arrange these foods along the counter space so everyone can easily help themselves!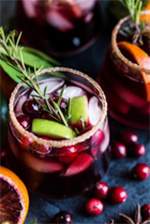 Cocktails
The drinks are the most important part of any cocktail party. Plan to have a variety of different drinks such as wine, beer, cocktails, and water on hand and ready to serve. Design a streamlined bar to make serving easier and hassle-free. Mix up a large batch of Holiday Sangria or mulled wine your guests can enjoy throughout the night. If you're feeling creative, experiment with different flavors and make some unique holiday cocktails. Drinks such as boozy hot chocolate, Hot Buttered Rum Batter, and spiked Irish-Cream are all fun choices! Also make sure to include some non-alcoholic drinks such as mocktails and juice. (Photo courtesy of themodernproper.com)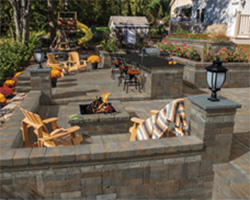 Firepit
Light up the firepit to create an inviting environment! Firepits will create a stunning focal point in your outdoor space and add natural warmth on a chilly winter night. Set up pillows and blankets by your firepit for your guests and enjoy your cocktails near the crackling fire! Gather around the cozy firepit and reminisce old memories to end the night right!
'Tis the season for holiday entertaining, invite your friends and family over for an elegant cocktail party in your outdoor space!