Make Good Choices With Your Hardscape Project
September 02, 2016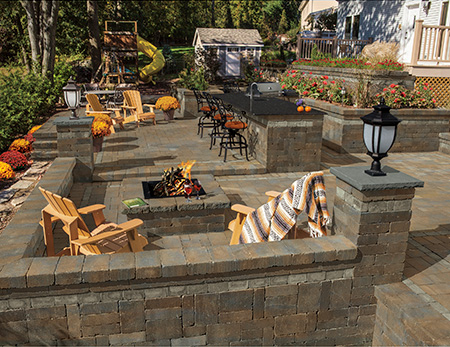 Back in the seventies and eighties - hardscaping''s evolving years - do-it-yourselfers took on tasks like installing paver walkways, small patios and even modest-sized driveways. These were often considered viable weekend projects. According to info.houzz.com, recent home purchases are triggering major outdoor project undertakings. The breadth of products and outpouring of design ideas combined with the number of solutions-based alternatives to traditional pavements and landscape walls have changed that early D.I.Y. dynamic considerably causing grounds for even the most readily challenged homeowners to rely on professional resources.
Lesson 1: Choosing the right installer
In the best of circumstances, selecting a contractor can be a daunting charge. Although a relatively new installer may have what appears to be a fresh design perspective, in most cases it is the seasoned pro who has the most references that fit your project criteria and by experience, knows the do''s and don''ts of the industry. Balancing what strikes your fancy and what instills confidence can make or break short-term results and long-term investment return. I''m passing along some basic lessons to guide you along the way.
A professional contractor who specializes in their construction should install interlocking concrete pavements. Contractors can also show you the range of colors, shapes and pattern options available from top manufacturers. Plus, having the right equipment and materials at hand, allows them to do a high-quality job quickly and safely.
Lesson 2: Timing can make a difference
With hardscaping, a "big picture" landscape makeover can be accomplished in small phases without compromising quality and continuity. Advanced planning will avoid unexpected roadblocks as you expand the space(s) and move along toward the finished project.
You can begin with a modest 100 sq. ft. patio of Cambridge Pavingstones with lasting ArmorTec® colors that will provide adequate room for backyard lounging, hosting small gatherings and/or creating an outdoor lifestyle that suits your fancy in the initial stage. Adjacent areas with an outdoor kitchen, a fire pit, a spa or pool can be added in succession in years to follow because, when properly forecasted, everything will be well-matched at later dates. Most contractors are only too willing to follow through in phases, knowing they have secured at the very least, a start-up work order. Ask to see a portfolio and samples along with long-range details.
Lesson 3: Adding value with a single-source brand
As part of your contractor interview Q & A, be sure to inquire about alliances with manufacturers, product knowledge and training. Cambridge for instance, is a nationally recognized producer of many types of hardscape materials, which comprises coordinated pavers backed by a fully transferrable, lifetime warranty, wall systems and outdoor patio components.
Lesson 4: Fall can be the best time to negotiate
You may be able to secure budget-friendly pricing now while many contractors are looking to finish up their year by booking a reasonable number of projects before winter sets in.
Let "back-to-school" month motivate you to do your homework. A good book to start with is a complementary Outdoor Living Guide available from any authorized Cambridge distributor.