2022 Hottest Winter Products
January 01, 2022
Just because the cold weather is here, that doesn't mean you should stay inside! Enjoy your outdoor living space all year round with the help of Cambridge Pavingstones' trending hottest winter products. With an array of hardscape amenities, you can create a cozy space you and your family will enjoy throughout all four seasons!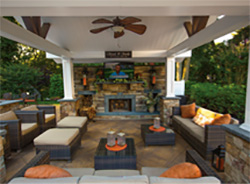 Pavilion
Enjoy your outdoor space all year round regardless of the weather with a Cambridge pavilion! A pavilion will shield your gathering space from unexpected snow or rain and create an indoor living room "vibe". Amp up the atmosphere of your home's design with some creativity and imagination. Spice things up by adding some indoor elements to your pavilion! Consider hanging up a TV and investing in some comfy furniture to relax and unwind after a long day!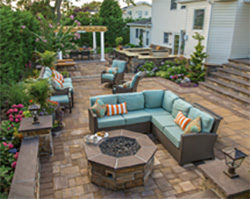 Fire Pit
To fully enjoy your outdoor living space this cold winter season a firepit is essential. A crackling warm fire will lighten up your outdoor space and recreate that cozy indoor-sy feel. Place a few comfy chairs around your firepit and snuggle into a warm blanket while enjoying a tasty hot chocolate!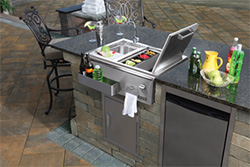 Cocktail Bar
Invite your friends and family over and gather around the fire pit while sipping on your favorite cocktails! An outdoor cocktail bar allows you and your loved ones to breathe in the fresh crisp air while spending quality time outdoors. Stock up your outdoor fridge with a variety of drinks for everyone to enjoy throughout the night!
With the right outdoor seating, heating and accessories you might find that your guests are so comfortable, they may not want to leave!