3 slow Cooker recipes to warm you up this Winter
January 02, 2022
When the temperature drops, there's no better time to cuddle up near the firepit and enjoy some hearty home cooked meals. If you struggle to find time to cook for you and your family, using a slow cooker is key! A slow cooker allows you to to cook, without actually being there! Knowing that you're coming home to a warm and tasty meal at the end of the day, will reduce the stress of cooking during the winter season. Not only is it super easy and convenient but it also makes cleaning up a breeze! Save some time by cooking a week's worth of meals in your slow cooker. Make some of these cozy winter food recipes that will warm up even the coldest winter nights!
Slow cooker Winter Vegetable Soup With Split Red Lentils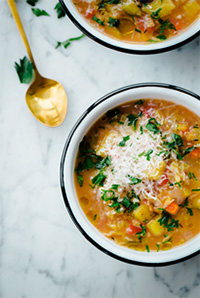 A hearty slow cooker vegetable soup packed with red lentils and delicious flavor. This comforting dish is perfect for the chilly weather! (recipe and photo courtesy of abeautifulplate.com)
Ingredients:
• 2 tablespoons extra virgin olive oil
• 1 large yellow onion diced
• 3 celery stalks diced
• 3 medium carrots trimmed, peeled, and diced
• 2 medium zucchini ends trimmed and chopped into 3/4-inch chunks
• 3 small Yukon gold potatoes scrubbed and chopped into 3/4-inch cubes
• 3/4 cup split red lentils
• 1 cup (240 mL) canned chopped tomatoes with their juices
• 2 pieces of parmigiano-reggiano rind
• 2 dried bay leaves
• 3-4 sprigs of fresh thyme
• 5 cups low-sodium chicken stock or vegetable broth
• 1 teaspoon Diamond Crystal kosher sea salt plus more to taste
• freshly ground black pepper
• 2-3 cups finely sliced savoy cabbage reserved for later
Directions:
1. If you own a stovetop-safe slow cooker insert: Heat the olive oil in the insert over medium heat on the stove. Add the onion and celery and saute until tender, 5 to 7 minutes, before transferring to the slow cooker and continuing with the instructions below

2. If you do not own a slow cooker with a stovetop-safe insert (or wish to skip step one): Place the insert on the slow-cooker base (this recipe will fit a 4-quart capacity slow cooker). Add the olive oil, onion, celery, carrot, zucchini, potatoes, split red lentils, chopped tomatoes, parmigiano rind, bay leaves, thyme, chicken stock, kosher salt, and black pepper. Stir together. Cook on the high heat setting for 4 to 6 hours, or until the red lentils are tender (or alternatively, cook on the low heat setting for 8-10 hours).

3. In the last hour of cook time (or 2 hours, if you are cooking over the low heat setting), add the thinly sliced cabbage. Remove and discard the dried bay leaves and any tough thyme sprigs. Adjust the seasoning to taste salt and pepper – you will most likely need to be liberal on the salt for this soup.

4. Serve the soup and top each serving with a drizzle of extra virgin olive oil, a sprinkling of freshly chopped parsley, and freshly grated parmigiano-reggiano cheese.
Slow Cooker Sweet potato Black Bean Chili with Quinoa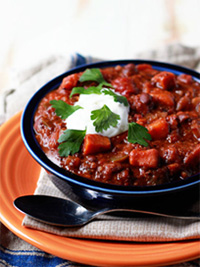 Warm up your winter nights with this protein-rich chili. It is so creamy and unbelievably easy to make. Just combine all the ingredients in a slow cooker and come home to dinner! (recipe and photo courtesy of kitchentreaty.com)
Ingredients:
• 1/2 cup uncooked quinoa (rinsed well in cool water)
• 3 cups cooked black beans (about 2 [15-ounce] cans, drained)
• 2 cups vegetable broth
• 2 14-ounce cans diced tomatoes
• 1 medium yellow onion (diced)
• 1 green bell pepper (diced)
• 1 jalapeno pepper (seeded and minced*)
• 2 medium sweet potatoes (peeled and diced)
• 2 tablespoons cocoa powder
• 1 tablespoon chili powder
• 2 teaspoons ground cumin
• 1/4 teaspoon smoked paprika
• 1/4 teaspoon cayenne pepper (more or less to taste)
• 1 teaspoon kosher salt
• Additional salt and pepper to taste
Directions:
1. Add all ingredients (except additional salt and pepper and toppings) to a 3-quart or larger slow cooker. Cook on low for 8-10 hours or on high for 5-6 hours. That's it! Taste and add additional salt and pepper if desired. Serve with assorted toppings. Keeps refrigerated in an airtight container for about 3 days. It freezes well, too!
Slow Cooker Beef Stew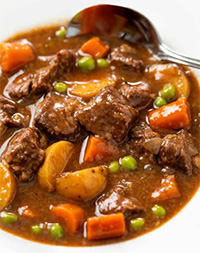 This traditional beef stew is perfect after a long winter day. It's loaded with tender bites of juicy beef, golden potatoes, carrots, red wine, onions, garlic, tasty spices and a hearty beef broth. (recipe and photo courtesy of thecozycook.com)
Ingredients
• 1/4 cup flour
• 1/2 teaspoon black pepper
• 1/2 teaspoon garlic salt
• 1/2 teaspoon celery salt
• 2 1/2 pounds stew meat, see notes
• 3-6 tablespoons olive oil
• 3 Tablespoons cold butter, separated
• 2 cups yellow onion, diced
• 4 cloves garlic, minced
• 1 cup high-quality cabernet sauvignon, merlot works as well. See notes.
• 4 cups beef broth
• 2 tsp better than bouillon, or 2 beef bouillon cubes
• 2 Tablespoons Worcestershire Sauce
• 3 Tablespoons Tomato Paste
• 5 medium carrots, cut into 1/4 inch cubes
• 1 lb. baby Yukon gold potatoes, halved or quartered
• 2 bay leaves
• 1 large branch rosemary
• 1 cup frozen peas
• 1/4 cup Cold Water + 3 tablespoons Cornstarch, Optional
• 2-3 drops Kitchen Bouquet Browning + Seasoning Sauce , (Optional)- Adds an even richer darker color.
Directions:
1. Cut meat into 1-inch cubes, discard any large pieces of fat. Fat marbleized into the meat is fine!

2. Sprinkle beef with black pepper, garlic salt, and celery salt. Toss to coat. Sprinkle flour over the meat and toss again.

3. Heat 3 Tablespoons olive oil in a large skillet over medium high heat. Add the meat in batches, don't overcrowd the pan). Brown on each side for 45 seconds. Add more oil if needed. Transfer to slow cooker.

4. Reduce heat to medium and melt 1 Tablespoon butter. Add onions and cook for 5 minutes. Add garlic and cook for 1 minute. Use a silicone spatula to clean the bottom of the pan, removing any brown remnants. This will give the soup lots of good flavor. If necessary, add a splash of wine to help loosen it. Transfer the onions/garlic mixture to the slow cooker.

5. Add all remaining ingredients except for the peas, cornstarch mixture, and 2 tablespoons of cold butter.

6. Cook on low for 7 1/2 to 8 hours or high for 3 1/2 to 4 hours, until the vegetables are softened and the potatoes are fork tender.

7. Add the peas during the last 15 minutes of cooking.

8. Optional: To thicken, combine 1/4 cup COLD water with 3 Tablespoons of cornstarch. Slowly add it to the stew, stirring to incorporate. It will continue to thicken upon standing.

9. Turn off the heat. Remove the bay leaves and rosemary stem. Swirl in 2 tablespoons of cold butter for a smooth, velvety finish. This is a technique that chefs use called "Monter au Beurre".
A slow cooker will deliciously combine all your ingredients and flavors together to create the perfect dinner your whole family will love! Try out these simple yet flavorful recipes this winter season!