4 DIY Projects To Tackle Before A Football Party
December 20, 2016
Its football season, which means that it''s time to get crafty! Everyone loves a football themed party, but this season go above and beyond by surprising your guests with creative DIY football decor. If you''re going to host a party, why not go all out?
Get your game face on and tackle these simple projects for ideal entertaining: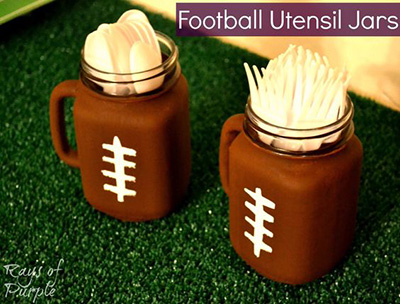 1. Football utensil jars
You will need:
• Mason jars
• Paint brushes
• Brown paint
• White paint pen
1. Remove the lid of your mason jars and turn them upside down so that they are standing on the rim instead of the base

2. Use the brushes and brown paint to paint each jar completely brown. You want to get the jars to be opaque, so try to paint on at least 2 and ideally 3 coats of paint.

3. Once you''ve let the brown dry, turn the jar back around on its base and paint any parts of the rim that you may have missed

4. After that, use your white paint pen, which you can find at your local art supply store (Michaels, AC Moore, etc.) to draw on the football laces.

5. Your finished product should look somewhat like the picture, and once all the paint has dried, you can go ahead and place forks, knifes, spoons, straws or any other utensil you may need to distribute at your next football themed party!
---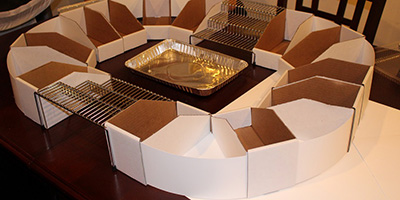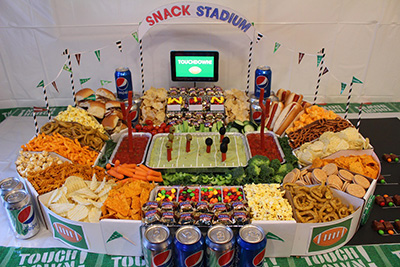 2. Snack stadium
You will need:
• 9x9 Spice racks (2)
• 4x9 bin boxes (12)
• 13x9 pan of guacamole
• 4x9 pans of salsa (2)
• White poster board
• Snacks
• Tape
• Scissors
1. First put the guacamole tray in the center of the table representing the field with the two trays of salsa on each side.

2. Then place two elevated spice racks on either side of the table parallel to each other and perpendicular to the salsa trays

3. Next arrange six bin boxes (which you can make with cereal boxes or buy online) on each side of the spice racks to create an oval shaped stand.

4. After that, use white poster board and tape to close off any gaps between the bins. This will be an efficient way to close off the structure and keep it from breaking apart while your guests are snacking.

5. The last step is the easiest. Fill each bin box with your choice of snacks and decorate it however you want!
---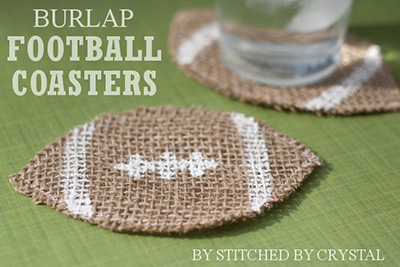 3. Football coasters
You will need:
• Burlap
• White paint
• Sewing kit
• Scissors
1. If you have wooden furniture, this burlap football coaster will be a lifesaver! The first step is to cut out football shaped burlap pieces. Make sure to use one piece as a template for all of them because they all need to be the same size.

2. Pair off the burlap pieces and sew the two together by the edges.

3. Once you have sewn each pair together, use your scissors to trim any excess on the edges

4. Use your white paint to paint on the football lace design.

5. Let it dry and in no time, they''ll be ready to use!
---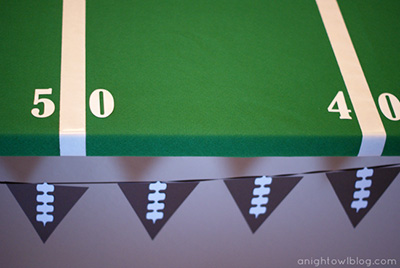 4. Football field table
You will need:
• Green felt
• Double stick tape
• White duct tape
• Pre-cut numbers
• Glue
1. Begin by unrolling your green felt and covering the table with it.

2. Place it so that the edges of the felt wrap around the edges of the table and then tape it down with some double-sided tape for a neat finish.

3. Use white duct tape to create the football field yard lines.

4. Lastly glue your precut numbers (which can be found at your local crafts store) on to the green felt as shown in the picture above. After the glue has dried, set up your table for a day of football themed fun!
---
Photos courtesy of:
https://www.pinterest.com/pin/43487952627849284/
https://www.pinterest.com/pin/164099980145795649/
https://www.pinterest.com/pin/155514993360760793/
http://snapcreativity.com/diy-football-coasters/