St. Patrick's Day Barbeque Blog
March 02, 2023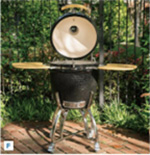 When spring is just around the corner, it's time to start planning for one of the most celebrated holidays of the year: St. Patrick's Day! Take advantage of the weather and throw an unforgettable Saint Patrick's Day bash in your outdoor space. Whether you invite your family and friends for a themed cookout or host an evening beer tasting, it's a day that's sure to be full of fun. After all, on March 17th everyone gets to be Irish for the day!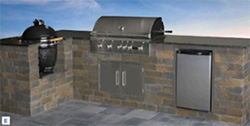 It's not a party without a delectable spread of foods and beverages, and an occasion like St. Patrick's Day makes it fun to plan your menu. From green frosted cookies, to green inspired cocktails, the possibilities are endless. Consider setting up a buffet-style menu to allow your guests to nibble as they wish! Cambridges Asado cooker is a great way to cook up a delicious feast. With an Asado cooker you can sear, smoke or grill anything you want all in one place! Meats are slowly cooked over a live fuel of natural wood and charcoal which give a flavorsome, succulent and tender cuts. It's very versatile and offers a variety of options that maintain the authentic woodfire barbeque flavor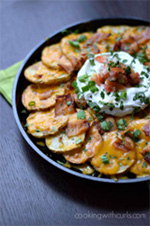 Irish Nachos
This recipe for Irish Potato Nachos is a fun spin on traditional nachos, made with thinly sliced potatoes, crispy bacon, melted cheese, and all of your favorite toppings! They're ideal for serving as a tasty appetizer at your next party! (photo and recipe courtesy of cookingwithcurls.com)
Ingredients:
• 1.5 pounds russet potatoes (cleaned, and sliced 1/4 inch thick)
• 2 tablespoons olive oil
• .5 teaspoon dried rosemary (crushed)
• .5 teaspoon dried thyme leaves(crushed)
• sea salt and black pepper (to taste)
• 1 cup shredded sharp cheddar cheese
• 5 slices bacon (cooked and chopped)
• .25 cup sour cream or Greek yogurt(plus more for serving)
• .25 cup pico de gallo style salsa (plus more for serving)
• 2 minced green onions
• 1 tablespoon chopped cilantro leaves
Directions:
1. Preheat oven to 450 degrees.
2. Wash and dry potatoes, leaving skin on.
3. Slice potatoes into .25-inch rounds and place in a large bowl.
4. Drizzle olive oil, rosemary, and thyme over potatoes. Stir to combine.
5. Place potatoes, in a single layer, on a greased baking sheet. Bake for 20 minutes, turn over, and continue baking for an additional 20 minutes.
6. Remove potatoes from baking sheet and place on a flat-sided cast iron skillet, slightly overlapping the edges.
7. Sprinkle with cheese and bacon, and return to the oven for 3 to 4 minutes, or until cheese is completely melted.
8. Sprinkle with green onions and cilantro, and serve with Greek yogurt or sour cream and salsa.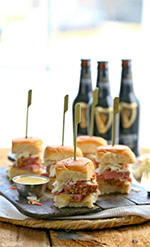 Slow cooker Corned Beef and Cabbage Sliders
Corned Beef and cabbage sliders in the slow cooker are a family favorite dish that's super easy to make and hard to resist! Top them with a tangy dressing and enjoy! (photo and recipe courtesy of thecookierookie.com)
Ingredients:
• 1 corned beef brisket with spice package
• 4 cups water
• 2 tablespoons sugar
• 2 tablespoons apple cider vinegar
• 1 cup potatoes diced
• 1 cup white onion sliced
• 1/2 cup carrots diced
• 1/2 cup celery diced
• 1/2 cup Dijon mustard
• 2 tablespoons honey mustard
• 2 tablespoons Guinness or stout beer
• 1 teaspoon dark brown sugar
• 8 sweet rolls cut in half to make buns ( King's Hawaiian)
• 1 cup prepared coleslaw
Directions:
1. Place water, sugar, and vinegar in a large slow cooker on high heat. Add brisket and spice packet to mixture. Place potatoes, carrots, onion, and celery on all sides of brisket. Cook on high for 4 hours.
2. Whisk together both mustards, Guinness, and brown sugar. Set aside
3. When the brisket is fully cooked, slice into 1/4 inch slices.
4. Stack 3-4 brisket slices on bottom half of bun, topped with coleslaw. Spread mustard on top part of bun to complete your slider. Serve with the veggie mixture. Enjoy!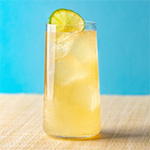 Irish Buck Cocktail
This refreshing, fizzy, Buck cocktail combines light yet oaky Irish whiskey with tart lemon juice, and ginger ale.(photo and recipe courtesy of liquor.com)
Ingredients:
• 1 1/2 ounces Irish whiskey
• 1/4 ounce lime juice, freshly squeezed
• 2 ounces ginger ale, chilled, to top
• Garnish: lime wheel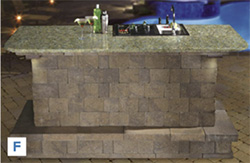 Directions:
1. Add the whiskey and lime juice into a Collins glass filled with ice.
2. Top with the ginger ale and stir gently and briefly to combine.
3. Garnish with a lime wheel.
You don't need a four-leaf clover or the magic of a leprechaun to throw a memorable party for your Saint Patrick's Day. All you need is some planning and good food!