National Backyard Day
March 03, 2023
It's finally warm enough to go outside and soak in the sun while admiring nature's beauty. On March 19th, we commemorate National Backyard Day and all the ways we've transformed the space we refer to as our oasis. Spring is a great time to improve, build, or upgrade your existing outdoor space. Make your backyard dreams come true this Spring with Cambridge Pavers, so you can sit back, relax, and enjoy life outdoors all four seasons!
Our backyards provide peaceful solitude, a relaxing escape for reading, and a gathering place for friends and family. It allows us to reconnect with nature, with our loved ones, and with ourselves. Planning your outdoor living space is a process that requires careful thought, whether you want to create a space for outdoor dining, a retreat for relaxation, or boost your curb appeal. The first thing you want to ask yourself is "What do I want to achieve with my outdoor space"?
ARE YOU LOOKING TO HOST FAMILY & FRIENDS?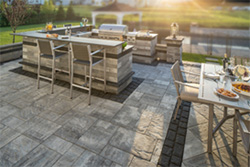 Outdoor kitchen
Nothing marks the start of backyard season quite like a cookout! The smell of grilling food is mouth-watering, everything tastes delicious, and it's difficult not to have a good time - unless you're running back and forth between the outdoor grill and the kitchen for all the necessary ingredients. Why stress when you can make all your preparations right outside in the fresh air?

By bringing all the ingredients for outdoor dining outside, an outdoor kitchen allows you to slow down and spend quality time with your loved ones!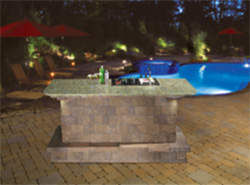 Bar Kit
Did you know that you can easily become a mixologist this summer? The secret? A Cambridge Pavingstones Bar kit! What better way to spend time with family and friends than relaxing and entertaining in your own backyard? Cambridges pre-cut bar modules are ideal for any size outdoor space. Whether you're hosting a small or large gathering the countertop space is perfect for serving beverages and snacks!
ARE YOU LOOKING TO CREATE A SPACE WHERE YOU CAN RELAX AND UNWIND?
Firepit
The best outdoor spaces can be enjoyed at any time of day or night, and in any season of the year! A firepit is essential to outdoor living room ideas, providing warmth, a spot to roast s'mores, make family memories and an atmosphere that entices you and your loved ones to hang out outside even when the sun goes down. Place a few comfy chairs around your firepit and snuggle into a warm blanket to recreate that cozy indoor-sy feel!
Pavilion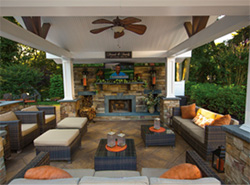 Your backyard is your personal retreat. There, your family can relax, unwind, and have fun. Installing an outdoor pavilion is one of the best ways to make your backyard stand out! A backyard pavilion increases the comfort of your outdoor space, making it ideal for hosting events such as parties and barbecues. Its versatility allows you to get creative and design a space you look forward to coming home to everyday! Consider adding a fireplace and comfortable furniture to create a warm, homey atmosphere. Pavilions also provide shade and shelter from the super sunny or rainy days. The advantage is that you can use this space all year round no matter the season. Cambridge Pavingstones can help you construct beautiful pavilions for any space or budget!
Any home improvement project is an investment, and you may require assistance with costs. Thanks to HFS's experienced team of experts, they can help you finance any exterior or interior home improvement project. HFS specialize in securing home improvement loans for projects such as sunrooms, kitchens, patios, basement finishing and more. With their knowledge and experience in home improvement financing, the team at HFS financial is the perfect partner. Make sure to take your time planning your outdoor space and hiring the right contractor. Do you require support in locating a contractor? Then go to our website and select Need a Pro Installer from the Homeowners tab on the homepage. Once you've decided on products and colors and signed a contract, make sure your contractor immediately places an order with an authorized Cambridge Distributor to ensure timely delivery.
Most importantly, you do not have to accomplish everything on your wish list all at once. Be transparent with your contractor about your budget so that everyone is on the same page. That way, he or she can plan to work with you in phases over time, to meet your goal.