Enjoying the Opening Week of MLB With Some Grilling
April 01, 2023
With baseball season approaching faster than a fastball, it's time to start planning an event to commemorate the start of the season. Take advantage of the weather and enjoy a delicious outdoor barbecue with your friends and family!
Outdoor kitchens have numerous benefits, but what you do with them transforms a simple backyard into so much more. From summer barbecues to graduation, birthdays to sports parties, Cambridge outdoor kitchen and grill makes entertaining a breeze! When food is grilled outside, guests can gather and socialize as dinner is prepared. Not to mention outdoors having several health benefits, grilling often leads to cleaner eating and creates long-lasting memories with loved ones!
Increase the comfort for your guests by adding patio heaters, comfy furniture, string lights, and even some relaxing music! Built-in grills are often a centerpiece however you can spice it up with an outdoor Cambridge pizza oven or even a gas griddle to recreate a hibachi experience right in your own backyard! Once you've mastered the art of grilling a steak or a juicy burger in your luxurious outdoor kitchen, you may never feel compelled to spend your money at a restaurant again!
The Perfect Burger Recipe
This juicy and flavorful burger recipe will have everyone coming back for more! (recipe and photo courtesy of momsdinner.net)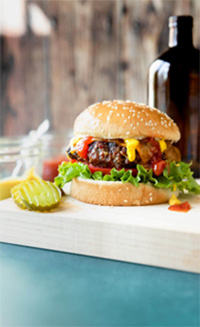 What you'll need:
• 1.5 lbs. 80/20 ground beef or ground chuck (see notes for more tips on ground beef)
• 1 piece white or wheat bread cut or torn into small 1/4 inch pieces. (avoid grainy or seedy bread)
• 3 tablespoon milk
• 1 teaspoon kosher salt
• 1 teaspoon onion powder
• 1/2 teaspoon black pepper
• 1 plump garlic clove minced
• 1 tablespoon Worcestershire sauce
• 1 tablespoon Dijon mustard
• hamburger or brioche buns
• butter for buns if grilling/toasting
• optional classic toppings: cheese, lettuce, tomatoes, onions, pickles, ketchup, mustard, and mayo see notes for other topping options.
Directions:
1. Place your burger patties over direct heat on hot grill grates. Cover the grill and cook the first side for 3-4 minutes.
2. Flip the burgers. Cover the grill back up and cook the second side for 3-4 minutes.
3. Use an instant read to see if your burgers have reached your desired temp:
Well Done: 160°F to 165°F
Medium Well: 150°F to 155°F
Medium: 140°F to 145°F
4. If you are adding cheese, move the burgers to indirect heat and place the cheese slices on the burgers. Close the lid and let it melt for 1 minute.
5. Let the burgers rest off the heat for about 5 minutes before serving.
6. If you like a grilled bun spread butter on the bottom and top bun. Place cut side/butter side down over indirect heat for a minute or two until it is golden. Don't walk away, it can go from golden to burned very quickly.
7. Add a tomato, onions and lettuce to the bottom bun top with the burger and pickles. Add the sauce to the top bun and put the burger together.
BURGER TOPPING IDEAS:
BBQ Burger
– BBQ sauce and mayo mixed together, pickled jalapenos, American or cheddar cheese, French fried onions.
Bacon Jam
– Bacon Jam , Boursin Cheese, mayo, lettuce, and tomato.
California Burger
– Provolone Cheese , Pesto mixed with mayo, avocado, tomato, onion, lettuce.
Goat Cheese Lovers
– caramelized onions, sauteed mushrooms, piles of goat cheese!
Asian Flavors
– Sambal Aioli , kimchi or Cilantro Lime Coleslaw
GROUND TURKEY:
If you would rather use ground turkey pop over to this recipe for Juicy Turkey Burgers.
GROUND PORK:
If you would rather use ground pork pop over to this recipe for Grilled Pork Burgers with Garlic Cream Sauce. Enjoy the opening week of MLB grilling in your outdoor space this year!