Easter Sunday Celebration
April 02, 2023
Spring has arrived and Easter is right around the corner! During this time of year, the weather remains warm which is the perfect time to enjoy your outdoor space! This year, host an unforgettable Easter party with your loved ones outdoors!
Outdoor Kitchen
A sunny Spring day sets an ideal atmosphere for enjoying a delicious meal with family and friends! A perfect Easter brunch or dinner starts with a well-dressed table so get creative and decorate with delicate pastel-rimmed dishes, floral-printed napkins, and some beautiful pastel flowers! Utilize your outdoor kitchen to cook up a Spring filled menu your guests will love! Nothing is more Spring than a citrus salad, deviled eggs, and a classic chartering board filled with all your favorite cheeses and snacks! Eliminate the stress of having to run in and out of the house with a fully assembled outdoor kitchen. Cambridges outdoor kitchen is designed to be an extension of your indoor kitchen and function as a multipurpose area where cooking and socializing go hand in hand!
Pavilion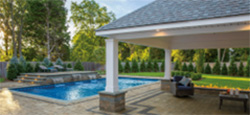 The weather can be a little unpredictable at this time of year so why not utilize your pavilion? Cambridge's pavilion is the ideal space for gathering and creating lasting memories with loved ones! Its spacious interior and open design make guests feel right at home. Brighten up your outdoor furniture and decorate your pavilion with lots of fun colorful easter themed decorations. Consider turning on some high-beat music to create the perfect ambiance!
Bar Module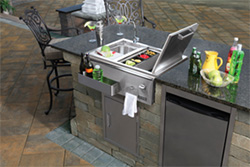 Imagine yourself lounging on your patio, an icy cold drink in hand, the sun glistening down on your skin, and the kids collecting eggs in the backyard. Sounds great don't you think? Make the day extra special by making unique homemade colorful Easter cocktails! With a bar kit, you can get creative and make unique seasonal drinks everyone will enjoy! Consider setting up a DIY mimosa bar and let your guests serve themselves or make a big batch of easter drinks so that everyone has something to sip on throughout the day!
With these Cambridge products, your family will have a blast celebrating Easter in your outdoor space this year!