Garden Prepping for Spring 2023
April 03, 2023
Spring is the perfect time to put on your gardening gloves and spend time reconnecting with nature! If you're starting to see colors but your landscape still seems dull, it may be time for an update. Here's how to bring life back into your outdoor space this Spring!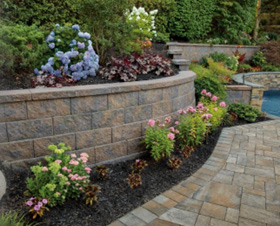 A landscaping wall can be the perfect outdoor feature to shape the flow of your outdoor space while adding a little beauty at the same time! From sigma wall to omega wall, Cambridge offers high-quality walls for any outdoor space! Low stone walls are ideal for outlining the edges of your garden and making certain features stand out. Whereas tiered walls can create enchanting, multi-leveled flower beds that will bring the eye to the front of the house and boost your curb appeal!
Enhance your outdoor space with Cambridge seating walls! Seating walls offer plenty of space for people to sit and are very low maintenance! Place them around areas people like to gather such as your firepit, patio, or outdoor kitchen. You can also use them for aesthetics since they add ambiance to your outdoor space!
Carrots
There's nothing quite like enjoying the crisp, sweet crunch of a freshly grown carrot! Growing carrots is super simple and can be quite a rewarding experience. Carrots are an excellent source of Vitamin A and add a pop of color to any of your favorite meals. This popular vegetable has a natural sweetness, especially when grown at home, and can be served raw or cooked. Carrot seeds can be sown 2 to 3 weeks before the last spring date. Make sure to plant them in a sunny location with rich airy soil. When planting in the Spring harvest them before daily temperatures get too hot since the heat can cause carrot roots to grow fibrous.
Potatoes
Potatoes make a great, staple crop and produce abundant harvests! Growing potatoes at home will provide you and your family with fresher and tastier potatoes than those purchased at the supermarket. This is due to the fact that supermarket potatoes can be stored for weeks or even months, whereas homegrown potatoes are picked when they are ripe and at their tastiest. It's important to make sure that your soil is slightly acidic and loose since tightly compacted soil can cause the potatoes to become malformed. Plant them in a location that is sunny and frost-free. Once stems reach 8 inches tall, mound soil around the lower half of the stem to avoid the potato turning green repeat this every 2 – 3 week for best results.
Raspberries
Raspberries are a popular berry with a gorgeous color and sweet juicy taste. They provide a good source of vitamins, minerals, and antioxidants. Enjoy them in salads, desserts, or alone as a snack to munch on throughout the day! Because raspberries are self-fertile, only one bush is required to produce fruit. Bees pollinate them best, and they begin producing fruit a year after planting. The planting site should have rich and well-drained soil, access to sunlight, and shelter from severe rain and wind. Avoid wet areas since they can cause the plant to dry out and rot.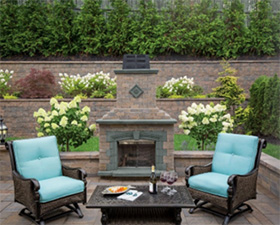 Summer Lilies
Lilies add graceful elegance and heavenly fragrance to any garden, blooming from early summer to late fall. With such big, exotic-looking blossoms, it seems like they would be tricky to grow, but they're not! Whether you grow some of the oldest lilies, such as the tiger or martagon lily, or one of the hundreds of hybrids available to the home gardener, you'll be delighted with the colorful impact blooming lilies will make in your garden. Plant them in an area that is not exposed to strong winds, and that receives a lot of sunlight. Their bulbs should be planted at a depth of approximately 2-3 times their height to allow stability. Make sure the soil is well-draining and organic since it can rot if moisture levels are too high.
Chocolate Cosmos
Did you know there is a flower that looks and smells like red velvet cake? Chocolate cosmos are captivating with their enchanting look and smell! Their deep red blossoms have velvety petals and dark centers which are known to attract beautiful butterflies. It's best to start growing them in indoor pots for several weeks before moving them outside. They grow best in warm, sheltered areas with all-day sun. Avoid over-watering or overfeeding them since it can cause them to produce foliage rather than flowers.