Celebrating Memorial Day in style
May 01, 2023
Are you ready to say goodbye to spring and hello to summer? Longer days, warmer weather, and plenty of sunlight are just a few of the benefits of the summer season. Prepare to kick off the celebrations and fun by preparing your outdoor space for Memorial Day! A bit of preparation and a few small touches will help you throw an unforgettable long weekend at home in the comfort of your own backyard!
Pavilion
A shady space is essential especially since the weather can be quite hot. Set up a comfortable area in your pavilion for your guests to relax and cool off. Consider setting up a TV or a comfortable couch to combine the comfort of being inside with the refreshing experience of being outside! Turn on your favorite summer tunes and prepare some board games to keep everyone entertained!
Outdoor kitchen and grill
Barbecue parties are a staple celebration for Memorial Day and your grill undoubtedly will take centerstage. Whether it's steak, juicy burgers, or a yummy rack of ribs, keep your menu simple so that everyone can enjoy it! Make classic summer favorites like red, white, and blue potato salad, and decorate your sweet treats with patriotic colors. Eliminate the stress of running in and out of the house with an outdoor kitchen. Your set-up could be as simple as a built-in grill and some well-placed coolers. Or consider entertaining in style with a Cambridge fully assembled outdoor kitchen module, complete with a grill and cocktail bar to make entertaining a breeze!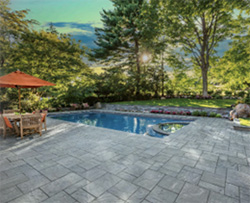 Pool Patio
Memorial Day is the perfect time to get together with your friends and family to enjoy the weather in a refreshing pool. A pool party really hits the spot; it's a chance for some yummy drinks and snacks, cocktails for the grown-ups, and lots of fun games for the kids! Make sure to have a place to sit, lounge, and eat. A pergola is a great option to place near your pool patio allowing you to feel like you have escaped to a luxury five-star hotel! Celebrate Memorial Day in style with these Cambridge amenities!