Surprising Mother's Day Brunch
May 03, 2023
Mothers are the most significant people in our lives, always loving and supporting us. Mother's Day is the ideal time to flip the script and pamper your mom! If you want to surprise her but aren't sure how an outdoor Mother's Day brunch is a special way to spend some quality time with your mom and make her day unforgettable!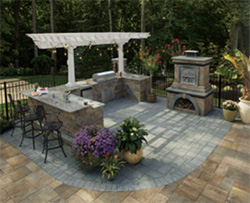 Outdoor Kitchen
Utilize your outdoor kitchen to surprise your mom with a delicious and creative spread to show her how much you appreciate her. Treat her to all her favorite breakfast foods including pancakes, French toast, fresh fruit, eggs, and dessert! An outdoor kitchen is the perfect place to spend some quality time with your mom and will make clean-up a breeze! Grab all your ingredients, head outside to impress your mom, and make brunch to remember!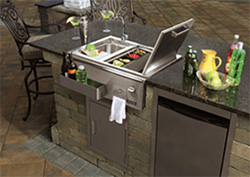 Bar module
To make her day extra special, set up a magical mom-osa bar that's designed just for her! Gather up her favorite juices, slice the garnishes, and pop the champagne. Make sure to put it in a fancy glass and garnish it with some edible flowers or something beautiful to make her smile! A bar module is very convenient and allows you to get creative when making drinks for any occasion! Your mom deserves to be treated, so don't forget to round out your brunch with delicious cocktails and Mother's Day desserts she'll be sure to love!