Season of Celebrations
June 02, 2023
You've watched time fly by and now it's time to stop the clock and capture the special moment of your child's graduation celebration! Hosting the event in your outdoor space will provide you with a fun opportunity to decorate, play games, and create unforgettable memories you and your child will always remember!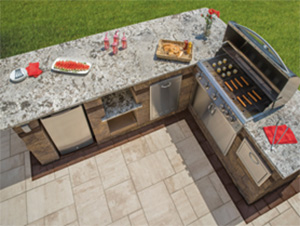 Get creative with your decorations and greet your guests with an entrance they won't forget! DIY a graduation balloon arch to set up a unique entryway your guests can walk through when they first arrive. Balloons are an easy way to liven up your outdoor space, use them to spell out the graduation year or even as a backdrop for a photobooth. Illuminate your outdoor space with string lights and candles! The warm glow of lights strung in trees, along your pavilion or hung on your patio can transform your outdoor living space into a magical space for a celebration!
Outdoor Kitchen
If you're looking for a luxurious way to celebrate, consider hosting a graduation dinner party in your outdoor space! A delicious cookout is the perfect way to get everyone together and enjoy some good food. Set up a self-serve taco station with a variety of toppings on your outdoor kitchen counter so that your guests can help themselves! Include basic finger foods like nachos, wings and veggie trays so that everyone has something to munch on throughout the day. Utilizing your outdoor kitchen will eliminate the unnecessary stress of having to run in and out of the house and will allow you to socialize with your guests while dinner is being prepared!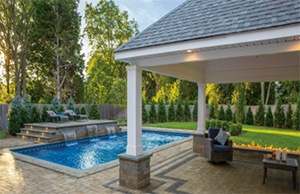 Pavilion
Graduation season typically brings good warm weather, but unexpected rain can pop up. A pavilion will help shield you from the weather and the hot sun. Set up a comfy area under your pavilion and play some uplighting music to boost everyone's mood! Provide your guests with comfy furniture and consider setting up a TV to create a mini paradise everyone will love! Engage your guests with board games and interactive elements to keep everyone entertained. Outdoor games like Laser Tag and Around the World Ring Toss will give everyone an opportunity to let loose after a stressful school year!
Your graduate has worked very hard and accomplished a lot. Throwing a graduation party outdoors for a fun way to celebrate the end of a school year! Celebrating in your outdoor space allows you to enjoy soaking in the sun and spending quality time with family and friends. With a little prep beforehand, you, your graduate, and all your guests are sure to have an unforgettable time!