Summer Leisure Day
July 01, 2023
The perfect summer leisure day allows us to relish the beauty of nature, and indulge in activities that rejuvenate our mind, body, and spirit. Make the most of this special day by embracing the sun's warmth on your pool patio!
Picking a paver color can be challenging, but our new Platinum color is a sure bet, as well as our Bluestone Blend which has been a best seller since we introduced it two decades ago. A pool patio offers a delightful escape from the heat, allowing you to kick back and unwind. Make your poolside experience enjoyable by adding elements that enhance comfort and convenience! Have a dedicated area for towels, sunscreen, and pool toys, ensuring everything is easily accessible for you and your guests. If you're looking to create a lively ambiance, set up a waterproof system and play all your favorite upbeat songs! Transform your pool patio into a hub of entertainment by setting up a dining area where you and your loved ones can enjoy al fresco meals and yummy poolside snacks. Consider installing an outdoor kitchen or a barbecue grill to effortlessly prepare delicious meals and drinks for everyone to enjoy. Make sure to quench your thirst and delight your taste buds with refreshing poolside refreshments. Create a poolside bar area stocked with an assortment of refreshing drinks and garnishes. You can even incorporate a floating bar for the perfect summer leisure experience!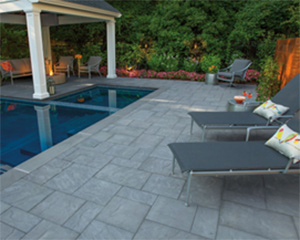 As the sun begins to set, transform your pool patio into a magical evening retreat. Install outdoor lighting options like string lights and lanterns to create a warm and inviting ambiance. Light-up pathways and pool edges are a great way to illuminate your pool patio and extend swimming into the nighttime! Consider adding a fire pit or a fireplace for cozy gatherings and roasting marshmallows, adding a touch of warmth and charm to your poolside evenings.
Embrace the pleasures of your pool patio paradise by creating a relaxing atmosphere you can enjoy this leisure day!
Kick off your flip-flops and enjoy a peaceful day by your pool patio paradise to unwind and recharge!