Summer Drinks
July 02, 2023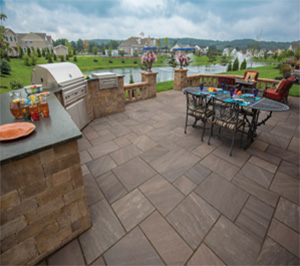 Whether you're craving an all-day sip like homemade sangria or looking for a mixed drink to serve at your backyard BBQ, there's nothing quite like a refreshing cold drink on a hot summer day! There are so many ways to enjoy the season's flavors, including sweet watermelon, succulent peaches, fragrant mint, and vibrant berries. Get creative and mix and match different flavors to create drinks everyone will love!
There's something undeniably enchanting about dining outdoors, surrounded by the fresh air! An outdoor kitchen extends your living space beyond the confines of your home, allowing you to cook, dine, and entertain while embracing nature's beauty. Al fresco dining offers a unique and delightful experience that tantalizes the senses and enhances the enjoyment of any meal. The fresh air, warm sunshine, and soothing sounds of nature will help to create a serene ambiance that will enhance the flavors of the food and elevate your dining experience! Take advantage of the warm weather and treat yourself to these delicious summer drinks!
Bar Module
This summer, elevate your drink game with a brand-new bar module! Whether you're hosting a backyard gathering or simply enjoying a refreshing drink on a sunny day, this sleek addition will be your go-to companion. With its stylish design and convenient features, the bar module offers a seamless experience for mixing and serving your favorite beverages. From crafting signature cocktails to pouring chilled beverages, this versatile module ensures that every sip is a delight. Embrace the spirit of summer and savor the moment as you create and enjoy refreshing drinks with ease, all thanks to our new bar module. Cheers to endless possibilities!
Watermelon Martini
This vodka martini is all about the watermelon! It's refreshingly sweet and super easy to make. With the addition of the watermelon wedge garnish, it makes an excellent drink for a dinner party or for sipping by the pool. (Recipe and photo courtesy of acouplecooks.com)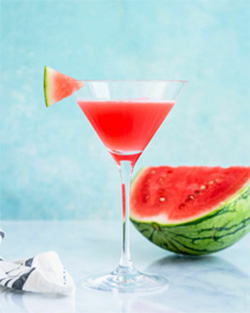 What you'll need:
• ½ cup chopped watermelon (or ¼ cup watermelon juice)
• 2 large mint leaves
• 1 ounce (2 tablespoons) vodka
• ½ ounce (1 tablespoon) Cointreau
• ½ ounce (1 tablespoon) lime juice
• 1 teaspoon simple syrup
• For the garnish: small watermelon wedge
Directions:
1. Chop the watermelon. Add the melon and mint to a cocktail shaker. Muddle (gently mash) them with a cocktail muddler or wooden spoon to release the juices. (If you're using watermelon juice, simply muddle the mint first.)

2. Add the vodka, Cointreau, lime juice, and simple syrup. Fill with ice and shake until cold.

3. Strain the drink into a cocktail glass. Garnish with a small watermelon wedge, if desired


Strawberry Orange Daiquiri
It's officially happy hour with these easy strawberry daiquiris made with sweet fresh strawberries! A splash of citrus juice amps up the strawberry flavor and gives it a subtle delicious kick! (recipe and photo courtesy of foodnetwork.com)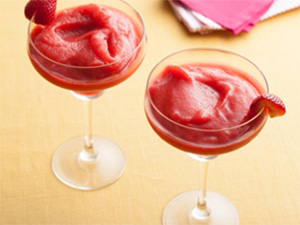 What you'll need:
• 1 orange
• ¼ cup sugar
• ¼ cup water
• 1 pint of fresh strawberries
• 4 ounces rum optional
Directions:
1. Using a vegetable peeler or zester, remove the zest of the orange, taking care to leave the pith behind.

2. In a small saucepan over medium heat whisk together the sugar with 1/4 cup water and the orange zest. Bring to a simmer and remove from heat. Cool to room temperature.

3. Reserve 4 strawberries for garnish and remove the hulls and roughly chop the remainder. Add the strawberries with the juice of the orange to a blender and fill with ice. Add the cooled orange simple syrup and blend until smooth. Add the rum, if desired, and blend. Pour into glasses and garnish with reserved strawberries.
Grab your favorite mixers and a bit of creativity, and you'll be surprised at how easy it is to make refreshing drinks you and your friends can enjoy on a hot summer day. Don't be surprised when they start calling you their new favorite bartender!