July 4th
July 03, 2023
The Fourth of July is the ideal time to gather friends and family for a day of fun, good food, and fireworks! Whether you're throwing a casual get-together or a full-fledged extravaganza, take advantage of the warm weather and throw a party in your outdoor space!
Transforming your outdoor space into a festive patriotic haven is essential to creating the perfect ambiance for your 4th of July celebration. Decorate your patio with red, white, and blue decorations, including banners, balloons, streamers, and flags. Utilize outdoor lighting to add a touch of magic as the sun sets, and consider incorporating some DIY crafts such as painted mason jars for a unique and personalized touch. Of course, you'll need some good tunes, too. Create a patriotic playlist to boost everyone's mood and get the crowd dancing. Dancing to great tunes under the starry night sky will surely create a memorable and joyous atmosphere!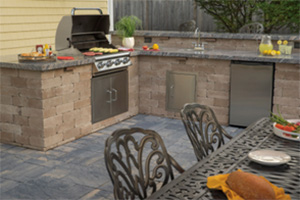 Outdoor Kitchen
What better way to celebrate the 4th of July than with a classic American barbecue? Fire up the grill and cook an array of delicious dishes, from juicy burgers and hotdogs to marinated grilled vegetables and skewers. Grilling up a delicious meal in your outdoor kitchen will allow you to hang out with your guests as you prepare food, so you won't feel isolated in the kitchen. Not to mention it will also eliminate the unnecessary stress of having to run in and out of the house! Create a menu that includes a lot of appetizers and finger foods to give your party a laid-back vibe and help to reduce waste. Enhance the patriotic theme by arranging fruits and condiments visually pleasingly, showcasing the colors of the American flag. Don't forget to offer refreshing beverages, like homemade sangria or fruity mocktails, to beat the summer heat!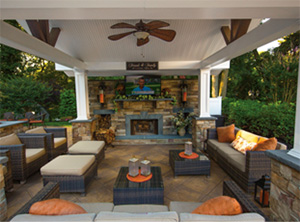 Pavilion
A pavilion offers a sheltered space where your guests can unwind, mingle, and enjoy each other's company. It provides a focal point for activities, such as dining, playing games, or simply relaxing, while also creating a visually appealing centerpiece for your outdoor space. Set up a comfy oasis where your guests can lay back and enjoy the fireworks as the night comes to an end. Bring out some festive pillows and blankets to ensure everyone is cozy throughout the night!
Celebrating the 4th of July in outdoor spaces allows us to bask in the beauty of nature while commemorating the freedom and independence that this day represents. From lively barbecues to thrilling games, captivating fireworks, and joyful music, there are endless ways to create memorable experiences no one will ever forget! So, this year, gather your loved ones, embrace the spirit of freedom, and make your outdoor space the ultimate destination for a remarkable 4th of July celebration.