Pool Patio Fun
August 01, 2023
Gather your loved ones, make refreshing drinks, and soak up the warm sun—this summer pool party is what dreams are made of! With a little creativity and planning, you can throw an unforgettable pool party to beat the heat, relax, and have a blast with friends and family!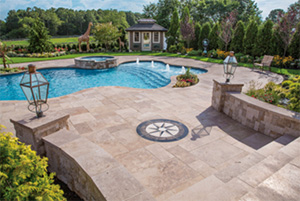 Before you throw an awesome pool party, you'll want to make sure your pool patio is in good condition. Pavers are a popular choice for pool patios because they are durable, versatile, and come in various shapes, colors and patterns! Consider the style of your home's exterior and the overall aesthetics you wish to achieve. Cambridge offers a wide variety of colors, sizes, and textures for every backyard no matter the size. Pavers can be laid in various patterns to create a unique intricate design that will impress your guests!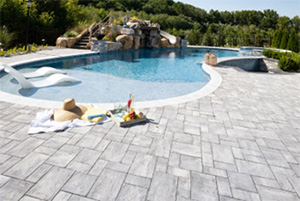 As summer heats up, you'll need eye-catching decor and party supplies to create the perfect poolside event! Transform your pool patio into a tropical paradise with inflatable palm trees, flamingoes, and tiki torches for a gorgeous glow. Enhance the tropical vibe with pineapple decorations and comfortable lounging options for all your guests! Create a playlist with upbeat and summery tunes to keep the party going all day long. If you have enough space, set up outdoor games like water volleyball and pool noodle races for some extra fun!
Aside from pool party music and decor, the snacks and drinks are one of the many things that will make your pool party unforgettable. Delight your guests with a spread of finger foods they can munch on throughout the day. Fire up the grill and make some juicy burgers, hotdogs, and steaks. These foods are super easy to make and will keep everyone satisfied throughout the hot summer day. For a fun dessert consider setting up a DIY interactive popsicle station for a cold yummy treat!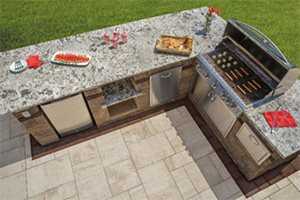 Keep your guests hydrated and refreshed with a selection of thirst-quenching drinks. Transform your bar cart into a tiki bar, complete with tasty beach inspired cocktails. Make sure to have a variety of beverages, including mocktails, cocktails and nonalcoholic beverages to cater to everyone's preferences. If you want to make it even more unique, serve your refreshments in a coconut or colorful vibrant cups.
With these fantastic pool party ideas and tips, you're all set to host an epic and memorable event. Remember to relax, have fun, and participate in the festivities yourself. A happy and enthusiastic host sets the tone for a fantastic time. So, get ready to make a splash, enjoy the sun, and create unforgettable memories with your friends and loved ones at your fantastic pool party!