Utilizing Your Small Space
August 03, 2023
Not all outdoor living spaces are created equally. Whether you live in a small apartment, or a tiny house, or have limited space in your backyard, there are plenty of ways to maximize your outdoor living space!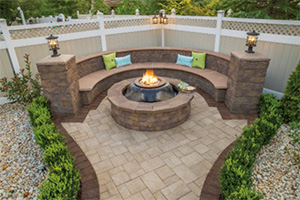 Define Zones
Seamlessly combine your indoor and outdoor space by bringing your favorite activities outside! Just because you're in an apartment or condo doesn't mean you can't design a cute outdoor living room. Make your outdoor balcony the ultimate destination for watching the sunset while soaking up the sun. If you enjoy reading, create a cozy reading nook near your outdoor firepit where you can unwind with your favorite book. Add a comfortable chair or a hammock, along with some outdoor-friendly lighting for evening reading. If you enjoy outdoor cooking and barbecues, create a dedicated cooking area. This zone can have a grill, a prep station, and a counter or serving space. Consider incorporating a bar module for mixing drinks and serving beverages to your guests. Create a comfortable lounge area for relaxation and socializing under your pavilion. This zone typically includes seating options like outdoor sofas, retaining walls, or chairs. Add cushions, throws, and outdoor rug for some extra coziness. This area is perfect for enjoying a morning coffee, meditation, or having meaningful conversations with your loved ones!
Create Illusions of Space
With the right strategic design choices you can make your outdoor space feel more open and inviting even with a smaller space! Choose light-colored outdoor furniture, cushions, and pavers. Light hues reflect more light, making the space feel airy and open. Whites, pastels, and neutral tones work well for this purpose. Be creative and play around with the angle, size, and color of your paving stones to create the illusion of a larger patio. Consider creating different levels in your backyard with retaining walls, terraced areas, or seating walls. This can help to add depth to your space and make it feel more dynamic. Let nature be your best design accent! Simplicity is your best friend when dealing with a limited backyard living space. Utilize vertical space to add greenery and decor without taking up valuable floor area. Install wall-mounted planters or shelves for herbs, flowers, and small plants. Hang outdoor lights, lanterns, or artwork on walls or fences to add a unique touch of personality to your space!
Working with a contractor
Working in phases with a contractor allows you to gradually transform your backyard into a beautiful and functional space that aligns with your vision and budget. It will also give you the flexibility to make adjustments and make the whole process seem way less overwhelming. Concentrating first on your priorities, whether it's adding a patio or pavilion, removing a lawn or even installing a pool, gives you time to see how the renovated space works for you and your family. You'll be able to change and adapt the plan as you use the space. To assist in choosing a contractor, ICPI offers a free Consumer Guide to assist you in the selection process!
Don't let lack of space keep you from achieving your backyard dreams! By implementing these ideas, you can turn your small backyard into a delightful and functional outdoor oasis that you'll love spending time in. Remember that creativity, organization, and thoughtful design can make any space, no matter how small, a special and enjoyable part of your home!