National Cheese Pizza Day
September 01, 2023
Pizza, the universally beloved dish that has captured the hearts and taste buds of people all around the world, has its own special day of celebration – National Cheese Pizza Day! This delectable day falls on September 5th each year and is a perfect excuse to indulge in your favorite slices or switch things up and experiment with new and exciting toppings!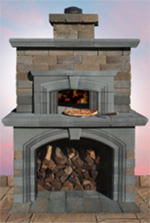 Colder weather can make it tough to leave the house. So why not bring the pizzeria to you? With the Cambridge pizza oven, you'll never feel the need to get a pizza delivered again! This life changing kitchen fixture is the perfect way to bring your loved ones together around dancing flames, home-cooked authentic tasting food, and of course some gooey, cheesy heaven!
Prosciutto Calabrian Wood Fired Pizza
This pizza pairs perfectly with a glass of red wine and will have your guests coming back for more! (recipe and photo courtesy of littlefiggy.com)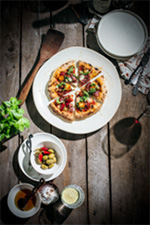 What you'll need:

Homemade pizza dough:

• 7 cups all-purpose flour
• 1 tablespoon salt
• 2 1/2 cups warm water (about 110°F)
• 1 tablespoon dry active yeast (2 x 7g packets)
• 4 tablespoons olive oil

For the Calabrian Pizza Sauce:

• 1 tablespoon olive oil
• 1 tablespoon minced garlic clove
• 2 teaspoons crushed Calabrian peppers
• 28 ounces canned whole or crushed tomatoes
• 1 tablespoon fresh oregano roughly chopped.
• 2 tablespoons fresh basil roughly chopped.

Additional Toppings:

• Prosciutto slices (2 - 3 slices per pizza)
• 8 ounces fresh mozzarella or burrata cheese (packed in brine)
• Honey, to drizzle
• Fresh cherry tomatoes, optional
• Arugula, optional
• Freshly grated parmesan cheese, optional

Directions:

Make the pizza dough:

1. In a large bowl or bowl of a stand mixer, sift together your flour and salt and set aside. In a smaller bowl, pour your water in, add your olive oil and sprinkle the yeast over the top. Give it a gentle stir and leave it alone for about 5 min. A good sign that the yeast is good is that the yeast will cause foam to start forming on top of the water.

For the hand mixing method:

2. In the large bowl with the flour and salt. Make a well in the center, and slowly pour in the water/yeast mixture. With a fork or spoon, start to bring it all together until well mixed.

3. On a floured surface, scrape your dough out and with floured hands start to knead until smooth and elastic. If you need to add more flour only use a dusting, you don't want to change your dough's consistency by adding too much flour. Don't overwork the dough. About 3 -5 mins of kneading are sufficient.

For the stand mixer method:

4. Using the hook attachment, place the mixing bowl in place, locked, then pour in the water yeast mixture and start off mixing at the lowest speed until it starts to combine. Increase the speed to medium and allow to mix for 3 - 5 minutes or the dough starts to pull away from the sides of the bowl and looks smooth and elastic.

Let it rise:

5. Place your dough in a four-dusted large bowl, top with a damp kitchen towel, and leave to rise for 30 min - 1 hr. or until it has doubled in size.

6. After the dough has doubled in size, scrape back out of the bowl onto a floured surface and punch down the dough to get the air bubbles knocked out.

7. Form dough into a smooth ball and divide into 6 - 8 pizza crust bases. I usually get 8 and use half now, then wrap each of the remaining pizza bases in plastic wrap and freeze for later from this point.

Make the Pizza Sauce: 8. Heat the olive oil in a saucepan, add the minced garlic and Calabrian peppers, and sauté for 2 -3 minutes.

9. Add in the can of tomatoes (do not strain), along with the oregano and basil, simmering for about 20 minutes. Set aside until ready to use or keep in an airtight container in the refrigerator for up to 1 week.

Make the Pizzas:

10. Prep your toppings! Chop anything that needs chopping, and have the topping ingredients lined up and ready to go.

11. Place the pizza stone in the pizza oven, or in the oven, and heat until the appropriate temperature is reached. If on the grill, light it up accordingly, put the grate in place, and top with pizza stone, allow to get to temperature. *Tip: For pizza ovens, temps should reach 750 - 900°F; for the grill ~ about 500 - 600°F; and for the oven ~ 450 - 550°F.

12. Start rolling out the pizza bases no more than 30 minutes before you are ready to cook them. Working with one pizza base at a time, on a lightly floured surface, roll or stretch out each pizza base until it's about 10 - 12 inches in diameter.

13. Once the base is ready, place on a lightly floured wooden pizza paddle or chopping board and start topping. Thinly sauce, add the torn prosciutto pieces, halved or chopped cherry tomatoes, torn or diced cheese, and if you wish you can also scatter additional fresh oregano or basil on top.

14. When the pizza oven, grill, or oven is at temperature, it's time to launch or transfer the pizza to the preheated pizza stone (it's best to leave the stones in place, do not try to remove them from the ovens).

15. In a pizza oven, after about 25 - 30 seconds, use the aluminum pizza peel to "grab" and pull out, rotate pizza, and place back in the pizza oven for an additional 25 - 30 seconds. Remove from the pizza oven.

16. On the grill, launch or transfer to the pizza stone, close the lid and cook for 5 - 8 minutes, once ready, remove carefully.

17. In the oven, launch or transfer the pizza to the pizza stone, cook for 8 - 10 minutes or until the pizza starts to turn golden.

To serve

18. Top pizza with a nice drizzle of honey, and scatter arugula over top. Slice and enjoy.

Take advantage of National Cheese Pizza Day and make fun unique pizzas with the whole family.