Outdoor Sunday Brunch
September 02, 2023
Who can resist the charm of brunch? Whether it's the allure of endless mimosas or the opportunity to cherish moments with family and friends, there's a compelling reason why it's a beloved meal for all. Make your weekend unforgettable by hosting a brunch gathering with your loved ones!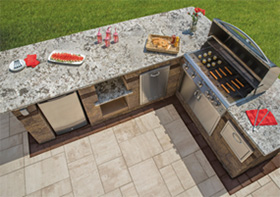 Food
Entertaining guests outdoors is always fun! An outdoor kitchen is the perfect place to prep and cook food while spending quality time with your friends and family. No matter where you live, an outdoor kitchen lets you take advantage of the great outdoors and enjoy any meal outside! An outdoor brunch calls for a light, fresh array to set the tone. A well-designed charcuterie board can be beautiful, delicious and the perfect addition to any brunch spread. You can prepare a wide variety of foods but make sure to give your guests the option to customize their plates. Setting up several stations is a great way to make your brunch more interactive and fun! A pancake bar, parfait bar and waffle bar are all great options! For dessert, pick up an assortment of yummy breakfast pastries from your local bakery or consider making them yourself with ingredients from your own garden!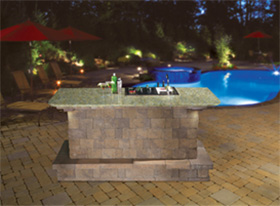 Drinks
Is it even brunch if someone's not drinking a mimosa? Without delectable drinks, it's really just breakfast. Make brunch a little more special with freshly squeezed orange juice mimosas! Help your guests unwind by offering them a selection of alcoholic beverages. Bellinis, Bloody Mary's, and sangria are the perfect pairings for your brunch foods. You can also serve a selection of juices to pair with some bubbly: Pineapple juice, mango juice, and peach juice are all great choices and allow your guests to make their own flavors!
Classic Mimosa
This classic mimosa recipe is the perfect beverage to serve for brunch with friends! It's with simple ingredients and tastes just like a celebration! (recipe and photo courtesy of theendlessmeal.com)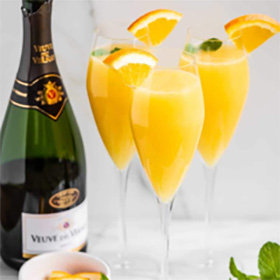 What you'll need:
• 1 750 ml bottle dry sparkling wine
• ½ cup Grand Marnier (optional)
• 3 cups orange juice
• 8 drops orange bitters (optional)
• Mint leaf or orange slice (to garnish)

Directions:
1. Divide the sparkling wine between champagne flutes, filling each glass at least halfway.

2. If you're using Grand Marnier, add 2 tablespoons to each glass. To make these fuss-free, simply pour in a splash.

3. Top with orange juice and add a drop of orange bitters to each glass.

4. To make the mimosas extra pretty, add a mint leaf or orange slice.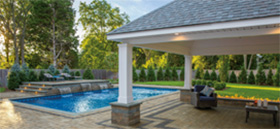 Pavilion
Keep it cool by setting up seating and refreshments under your pavilion. A pavilion will help to provide shade and transform your outdoor space into a tranquil retreat! Keep your guests entertained with some relaxing music and board games. Turn on your fireplace and bring out some blankets to keep everyone cozy and comfortable while they enjoy their drinks!
Pool
Invite all your guests to cool off and take a refreshing dip in the pool while food and drinks are being prepared! The pool provides an ideal setting to decompress, unwind, bond with each other, and share some laughter! Enjoy an unforgettable brunch in your outdoor space with the help of these Cambridge amenities.