Transition from Summer to Fall
September 03, 2023
Imagine a crisp fall night. Your loved ones gather near your outdoor fire pit, wrapped in warm blankets roasting yummy s'mores with a warm drink in hand. The glow of the fire, the smell of smoke and the sound of laughter fill the air. With Fall on the horizon, now is the perfect time to take a look at your outdoor space and add some extra comfort so that you and your family can enjoy your backyard all year round!
With the cooler temperatures and shorter fall days, it's time to start thinking about how to spruce up your outdoor space using different colors and fall decor. Enhance the fall ambiance with seasonal decorations like pumpkins, gourds, and fall foliage! Use bold colored decorative pillows and blankets to keep everyone comfortable and warm. For the nighttime make sure to string up some fairy lights or lanterns to add a touch of enchantment.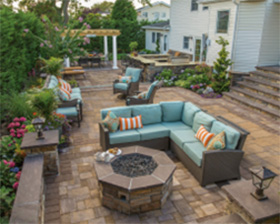 There is nothing quite like ending your day around a warm fire with a wine glass, hot chocolate, or marshmallow stick. An outdoor Fire pit allows you to fully immerse yourself in falls beauty and create a cozy spot to relax and enjoy the fresh air. Whether you're hosting a party, cozying up with a book on a chilly evening or simply basking in the warmth, a firepit can transform your outdoor space into a magical haven! Cambridge offers a large selection of outdoor fire pit and fireplace sizes and colors that suit any homeowner's style and preferences.
Complement the warmth of the fire with a delicious fall beverage. Consider serving hot apple cider, spiced pumpkin lattes or even mulled wine. These drinks not only keep you toasty but also capture the essence of the season! As the leaves change color and crisp cool air arrives, there's no better place to catch the Fall season than from your outdoor space!