Smoker-style barbecuing unites Northern and Southern outdoor cuisines
July 30, 2013
Although commonly associated with the post-American Civil War era, the Mason-Dixon line (or Mason's and Dixon's line) was actually the resolution of a border dispute between British colonies in Colonial America that was surveyed by Charles Mason and Jeremiah Dixon between 1763 and 1767. In popular references, the Mason-Dixon line symbolizes a cultural divide between Northeastern (Yankee) and the Southern (Dixie) regions of the United States. The North meets the South again today, but this time it's not at the Mason-Dixon Line. The encounters take place in the backyards of hometown America where bastions of the authentic, southern barbecue hold the line and face-off with time-honored Yankee grillers; each group bringing to the table their own adaptations of classic cultural cooking that turns to the hottest craze in outdoor patio cooking for optimum results: smoker-style barbecuing.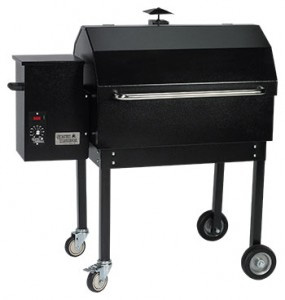 In the world of outdoor cookery, a smoker is a cooking appliance that can maintain low temperatures forextended periods of time while producing smoke and holding it around the meat for absorption. A worthy smoker does all this efficiently and more while also providing the space necessary to produce the amount of barbecued food needed. Gaining popularity is a smoker that is fueled by real wood pellets to achieve the unmistakable smoky flavor preferred in this kind of cooking.
You might ask: "Do I need a traditional grill and a smoker to assure a comprehensive outdoor kitchen design?" The answer until now was maybe. Gas grills are designed to pump heat through the cooking chamber allowing them to reach high temperatures by brute force. Because of the high airflow in most gas grills, gas grills are not good at capturing smoke and can cause foods to dry out over long periods of cooking time. As a result, gas grills do not make good smokers. However, the authentic Smokin Brothers® brand wood pellet BBQ Smoker & Grill is an all-In-one appliance with convenience as its key component. This smoker and grill also provides plenty of room for the main course as well as a number of side dishes to be cooked at the same. All this with the ease of a gas grill.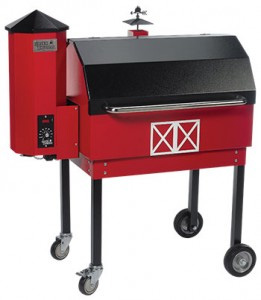 Outdoor cooking connoisseurs, north and south, will find peace in knowing that with a Smokin Brothers® Brand Wood Pellet BBQ Smoker & Grill they can prepare everything from succulent North Atlantic salmon to a rack of genuine Memphis-style pork ribs with less work and more down-home fun. The electronic auger automatically feeds the pellets to control the cooking temperature without having someone on-hand to stoke the fire or shuffle around the coals and embers - a necessary chore with conventional wood- and charcoal-burning smokers. The smoker heats up to 300 degrees in only ten minutes without natural gas, liquid propane or charcoal briquettes. A digital thermostat control ensures optimum performance while a center smoke exhaust contributes to even cooking.
Much of the authentic barbecue flavor is derived from the type of wood that is used and is often combined with seasonings (rubs) and sauces. Smokin Brothers® makes available ancillary products and accessories such as 100% pure, unblended wood pellets and an array of award-winning seasonings and sauces specially formulated to enhance the food without overpowering the taste buds. The pellets are produced to exacting specifications enabling them to burn efficiently, delivering rich, natural flavors to a host of recipes. Customers have a choice of four naturally-flavored pellets, Hickory Wood being the most popular. The other three woods are Apple, Mesquite and Cherry.
Available in four different sizes and three styles, Smokin Brothers® brand wood pellet BBQ Smoker & Grills are sold exclusively through authorized Cambridge distributors along the east coast. They are designed to stand-alone on a patio or can be built into a more elaborate hardscape outdoor kitchen design by a professional contractor. Cambridge is the manufacturer of Cambridge Pavingstones with ArmorTec®, Cambridge Wall Systems and a complete line of outdoor living room and open-air kitchen components. To locate a distributor, visit cambridgepavers.com.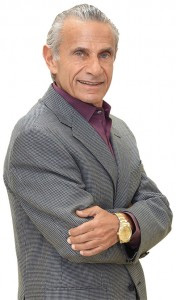 About the writer:
Charles H. Gamarekian is the Chairman/CEO of Cambridge Pavers Inc. He is one of the founders and a current board member of the Interlocking Pavement Institute. Organized in 1993, ICPI is the North American trade association representing the interlocking concrete paver industry and considered by peer associations around the world as the leader in development and dissemination of technical information for design professionals and contractors. Mr. Gamarekian is recognized worldwide as an expert in his field and is a frequent speaker on the proper installation of pavingstones, wallstones and many outdoor living products.