Follow Your Own Yellow Brick Road part 1
May 30, 2013
The Yellow Brick Road is an element in the novel The Wonderful Wizard of Oz by L. Frank Baum, which was published in 1900. Movie versions and references in song lyrics followed over the years. As the story goes, the fictional road served a purpose as a guide for young Dorothy to follow, as it led to this now frequently referenced, fictional City of Oz - the place where the Wizard resides. Dorothy traveled down the yellow brick road to visit the Wizard with the promise that he can help her get home. In her travels, she encountered characters like The Tin Man who is quoted in the song "Tin Man" by the music group America as saying: "Oz never did give nothing to the Tin Man that he didn't already have," which is true. When planning a front path, don't settle for poured or stamped concrete when you have another viable option: interlocking concrete pavers. This year ingenuity and even a bit of wizardry prevailed with the opening of "Oz the Great and Powerful" - and it can for homeowners as well.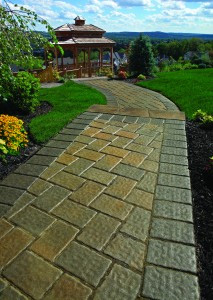 In today's street-side landscaping, homeowners strive to maximize "curb appeal" by creating lush designs, blossoming specimen trees, and paver driveways but often overlook a complementing front walkway that can not only add to the aesthetics of the home but create a pleasant and welcoming path to the front door. Thanks to the ingenuity and "street-smart" sensibility of leading-edge manufacturers of interlocking pavement systems, seen on driveways and patios, the "wizardry" and versatility of this type of system can also be garnered for your front walkway. Though not a yellow brick road per se, the colors, styles and patterns available afford you every conceivable design and color possibility that a little "storybook-style" imagination can conjure up.
Whether you choose a straight layout or a winding, serpentine placement of the pavers, there are a few guidelines that can help visitors find their way. Although 36? is standard, a good rule of thumb is to make walkways at least four feet wide, especially the one leading to the front door. This will allow two people to walk comfortably side-by-side. Conversely, a path that gets infrequent use can be narrower - examples of this type of path are side-yard entrances and those leading to the backyard. Bordering a walkway with a different color, shape or texture of pavers can make the walkway appear wider as well as create added interest.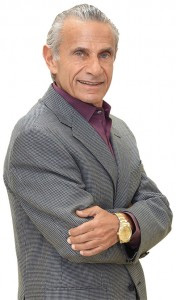 About the writer:
Charles H. Gamarekian is the Chairman/CEO of Cambridge Pavers Inc., manufacturer of Cambridge Pavingstones with ArmorTec®, Cambridge Wallstones and a full line of products for outdoor living. He is one of the founders and a current board member of the Interlocking Pavement Institute. Organized in 1993, ICPI is the North American trade association representing the interlocking concrete paver industry and considered by peer associations around the world as the leader in development and dissemination of technical information for design professionals and contractors. Mr. Gamarekian is recognized worldwide as an expert in his field and is a frequent speaker on the proper installation of pavingstones, wallstones and many outdoor living products.