Light Up Your Life... And Your Outdoor Lifestyle
April 17, 2013
Until recently, planning landscape lighting meant taking a jaunt to a local garden shop or lighting store that also sold outdoor light fixtures. There you could find the latest designs that ranged from garden lights on stems that stick out of a mulch bed to Asian paper lanterns or plastic novelty lights to adorn your patio. Hoorah! The outdoor living room scene has become more sophisticated and the landscape lighting selection has matured along with it. Today's outdoor living rooms, driveways and pathways rely on durable hardscape materials to maximize their curb appeal and backyard ambience while affording homeowners durability and plenty of "Return on Investment" (ROI). Leading-edge manufacturers of pavers, wall systems and outdoor living room components see lighting as a natural adjunct to their core products and have tasked their research and development teams to step up to the plate. It's time that savvy homeowners who are planning a new patio, driveway or walkway look into lighting products that have an integral relationship with surrounding hardscapes.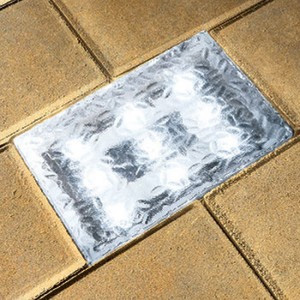 First and foremost, it is important to have basic understanding of available, artificial light sources. To this end, we will be covering two types of landscape lighting — low voltage and solar. Low voltage, 12-volt lighting, which is more efficient than conventional 120v-plus capacity but requires a direct electrical supply totally dependent on household current. On the other hand, solar energy is totally self sufficient and not dependent on municipal energy. Also, it does not require a transformer or cable in order to operate. As the expression goes: "to each his own."
The goal of most outdoor lighting is to provide general, ambient, task or delineation light. Hardscape-inspired lights usually address ambient- and task- related objectives such as safety, security, beauty and outdoor entertaining. Most hardscape contractors and landscape architects prefer subtle light to obtrusive hot spots although lighting that is built into stationary outdoor kitchen components should be bright enough to serve your cooking needs. You should keep all of this in mind when shopping around and making product comparisons.
LED-based solar lighting can be used as a task light or an ambient light. The LED lamp (LED light bulb) is a solid-state lamp that relies on light-emitting diodes (LEDs) for their source of light. They offer long service life and high-energy efficiency. For now, LEDs are not considered general light sources — yet, solar lighting has advanced to levels considered acceptable for many accent and also way-finding applications.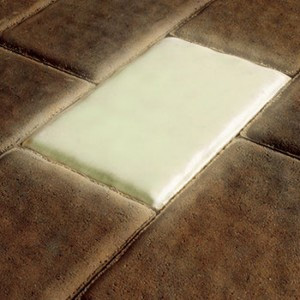 The SolaGlo Paver™ — exclusive to Cambridge — is a "green" lighting option. It is a totally sustainable alternative to both conventional solar and AC powered paver lights. No wires, no bulbs and no ancillary components are required. A tough and permanent surface treatment that glows in the dark is affixed to the Cambridge paver in a popular 6″ x 9″ size.
Let's look further at your proposed interlocking pavement system. Hardscape manufacturers like Cambridge offer various types and styles of paver lighting, all of which are designed specifically for interlocking concrete pavement systems and can include low-voltage as well as solar powered varieties. Similar to most paver lights, lighting for manufactured, hardscape wall systems actually replaces the wall unit in the course. There are also wall lights that are designed for specific applications in the system such as corner and column lights, step (tread) lights and lights that fit under the wall cap. These lights shine down with a slightly diffused and pleasing illumination. In addition to all of these, Cambridge also offers a column light that fits onto a pergola or pavilion and will provide soft accent lighting creating a stylish, outdoor living room setting.
Ever popular are water features. Other accent lighting can be easily achieved with a pre-packaged Cambridge lighted, pond-less waterfall kit and/or fountain kit that allow you to select one light color or run all sixteen by remote control. The Cambridge Fully Assembled Outdoor Fireplace with an optional waterfall/woodbox combination extension combines the visual appeal of accent lighting in cascading water with the hypnotic sound of a waterfall along with the warmth and comfort of a crackling wood fire — all three features to be enjoyed on your patio or within an outdoor living room setting.
Don't stay in the dark. Ask your contractor, visit a hardscape products manufacturer's website such as cambridgepavers.com or stop at a hardscape supply yard for more information. Remember, for optimum results, seek out a manufacturer whose brand you know and trust and tell your professional contractor.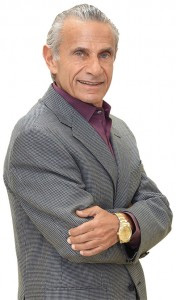 About the writer:
Charles H. Gamarekian is the Chairman/CEO of Cambridge Pavers Inc., manufacturer of Cambridge Pavingstones with ArmorTec®, Cambridge Wallstones and a full line of products for outdoor living. He is one of the founders and a current board member of the Interlocking Pavement Institute. Organized in 1993, ICPI is the North American trade association representing the interlocking concrete paver industry and considered by peer associations around the world as the leader in development and dissemination of technical information for design professionals and contractors. Mr. Gamarekian is recognized worldwide as an expert in his field and is a frequent speaker on the proper installation of pavingstones, wallstones and many outdoor living products.