A Permeable Driveway Pavement
November 29, 2016
Water pollutants can reveal themselves in several ways. In rural areas, rain and snow landing on farmland carries fertilizers with them to local sewers and, in due course, our waterways. In urban neighborhoods, which can add up to a large percentage of a community, pavements are the main source of pollution from the water run-off. And what does in fact, reduce run-off pollution, is the very concept behind the installation of a permeable paver system, which is gaining in popularity with commercial developers, municipalities and now, homeowners.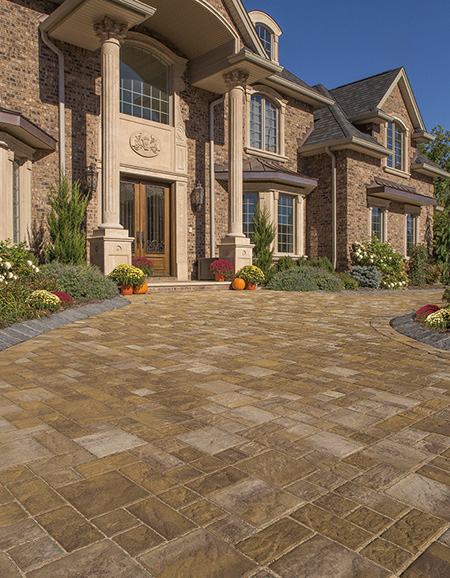 "When pavers are installed, they have small gaps between them," said David Smith, technical director of the Interlocking Concrete Pavement Institute. "Because they have the spaces in them, they can store water. Instead of water running off, it gets infiltrated." On the contrary, asphalt and poured concrete don't absorb water. Specially designed permeable pavements with small, stone-filled joints between the pavers, allow water to flow into highly porous, open-graded bedding into the base material below where it is filtered.
Respondents to a 2016 Residential Landscape Architects Trends Survey showed a 77% consumer demand for outdoor spaces that are environmentally sustainable, reduce water costs and are low maintenance. Permeably paved areas are not for everyone, but knowledge regarding these types of solution-based, natural products is good for all of us.
Think "Green" - Choose the proper material and a responsible professional
Cambridge, manufacturers of interlocking concrete pavement systems with ArmorTec®, lists several permeable options among the company's paver products. And let it be known that an earth-friendly driveway need not spare stylish curb appeal. For example, with a Cambridge Ledgestone Permeable 3-Pc. Design Kit in your contractor's remedy plan, you'll have three modular shapes for random placement, eight natural stone colors from which to make a selection, and handsome clefts cast from real bluestone molds. Combined with economical benefits over a 30-year, potential lifecycle, the result is a win-win for everyone. The Cambridge Research and Development Team also found inspiration from European cities when designing the durable and sustainable Belgium 5-Pc. Design Kit, which also offers adaptability as a "green" solution.
Cambridge offers certifications as part of workshop-style, educational programs in cooperation with the Interlocking Concrete Pavement Institute. Contractors, who have earned Cambridge Certifications, have taken the appropriate courses, passed an exam, and submitted required field experience requirements. After which, they can use associated acronyms after their names and professional titles - CCPI equals Certified Concrete Paver Installer and PICPS stands for Permeable Interlocking Pavement Specialist. Certifications can help assure homeowners optimum results when installing eco-friendly pavement driveways in the same way that commercial architects, developers and specifiers look to protect their investments and make positive environmental contributions.
Professional installers are only too willing to present their certifications to prospective customers. Your best first step may be to bring your problematic, run-off condition to any authorized Cambridge distributor. Go to cambridgepavers.com to find the locations nearest to you.