Big Ideas For A Small Backyard
November 21, 2016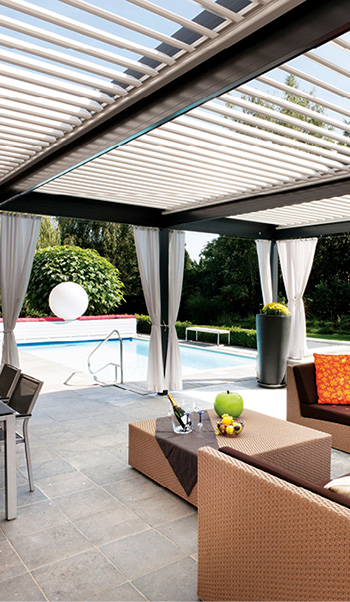 Fear no longer if you are a homeowner with a small backyard. Having a small backyard can still allow you to host the same great events as someone with a big backyard. There are a variety of ways to trick your guest into thinking you have a bigger space than you actually do.
Homeowners, you need to take advantage of every square inch you are given and here are some easy ways in which you can do this:
1. Make your backyard entryway POP!
Decorate your backyard entryway using bright and exciting colors. Adding flowers or decorations can grab your guest attention and set the focus off of the size of your backyard. When your guests walk into your backyard, they will notice the color before the size. Research shows colors can also alter the perception and mood of your guest. Colors such as red, yellow and orange will make your entry way look larger than it actually is. Yellow and orange are found to lift your spirits and self-esteem while red is associated with energy, strength and passion. Incorporating these colors in your backyard will give off positive energy that will radiate off your guests.
2. Section it off
Separate sections by using different pavingstone patterns, which can be provided by Cambridge Pavers. To accomplish this, you can install a raised patio using Cambridge Pavingstones with ArmorTec. Different colors and stone shapes can accentuate your area. This trick creates depth in your backyard, making it look larger than it is. There are a variety of colors and designs that Cambridge offers that can accommodate any size backyard.
3. Use plants with large leaves
This technique is loved by many homeowners! Plants with large leaves such as Giant Rhubarb and Colewort help make your backyard look bigger when placed by the entryway. Not only that, but these can also sustain the harsh and cold weather that we get in the Northeast. Another reason why plants with large leaves make your entryway look larger is because the plant creates an illusion of depth perception from the shadows of its leaves. Cambridge Pavers can work with you to create a landscape bed full of beautiful and unique large plants.
4. Add a Pergola!
Putting a Cambridge Pergola in a small backyard will give it more of a glamorous look. Not only are they a perfect source of shade for hot summer days, but they are also appealing to the eye. Constructing one above eye level will make your backyard look more spacious. There are numerous options when purchasing a Cambridge Pergola, such as motorized operation with remote control wind and rain sensors as well as going green with a Bioclimatic Pergola. They also vary in size which can accommodate with any homeowner's lack of space.