The new cambridge pre-packaged waterfall kits delivers on the timeless quest for the peaceful proximity to water
August 23, 2012
Since before the dawning of civilization, mankind has found solace in the beauty and tranquilizing sound of running water. In particular, this affinity to water is strongly symbolic in Roman history because it also had a religious significance. This was present in other notable societies as well. Early Greek scholars placed their trust in water and water springs, which were enhanced into shrines to heroes and nymphs as well as their gods and goddesses.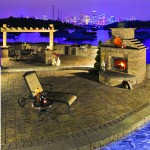 Now referred to as "water features" in landscape design circles, items such as fountains, water spewing garden sculptures and cascading waterfalls — once reserved for the palaces of royalty and the mansions of the rich and famous — have found their way onto the front and backyard wish lists of homeowners, where to many they also have an ethereal worth. However, for landscape contractors, designing and building such amenities can be a daunting, time-consuming and often highly expensive task. The new pond-less waterfall from Cambridge — makers of Cambridge Pavingstones with ArmorTec and Wallstones — offers a very viable alternative to custom rock waterfalls and rudimentary manufactured waterfalls.
In a natural rock waterfall, cascading water drops into a small pond at the bottom of the grade. Most manufactured waterfalls have a built-in basin that is also formed out of a non-porous material to catch and recycle the water. The Cambridge version is pond-less, and is offered in a pre-packaged kit complete with Cambridge Wallstones and everything else needed to cost-effectively complete the project.
The wallstone components are 116 pieces of 4″ high by 8″ deep and 12″ long, modular Cambridge Olde English Wall™, one of the company's most popular styles. The Olde English Wall comes in eleven color choices. The distressed characteristics of the double-sided concrete wallstones — a result of a specially controlled, barrel-tumbling process — provide a desired, natural stone appearance, and are arranged in a pre-determined, attractive, 3-dimensional design. Only minimal cutting of approximately 13 pieces is required.
The water-workings include a 33-gallon basin measuring 20″ high by 24″ deep by 44″ wide with a pre-filtered pump chamber. Water, propelled by a Tidal Wave 2 pump, recycles through a Matala filter mat (both also included). A 24″ water-illuminating light, available in three, color options (white, blue or red), is also included.
The complete kit, wallstones and water-workings, is shipped on two pallets with step-by-step instructions in English and Spanish. Custom decor such as Cambridge Accent Medallions in round or square configurations can be applied to the faces of the waterfall. Medallions are available in small and large size in Chestnut or Bluestone. Round medallions are offered in 8 1/8″ and 12″ diameter. Square medallions measure 8 1/8″ by 8 1/8″ and 12″ x 12″. There is also room to nestle plantings in the inside front corners next to the basin.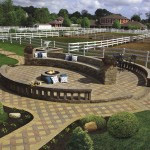 By recommending a sitting wall and columns, a cozy atmosphere can be created for casual gatherings near to the waterfall's mesmerizing sounds and lighted focal ambience. Using additional Cambridge Olde English Wallstones in a "domino-style" sitting wall built in a straight or radius design will complement stones in the waterfall structure in both the texture and the color palette. In a domino-positioned design, the Olde English Wallstones are placed vertically on the joint lines of the stones in the horizontally laid layer below. This not only establishes a perimeter to the space but allows a more open feeling created by the spaces left between the stones. Olde English wallstones are also used as caps that provide the seating. Adding another cap layer can raise the sitting height accordingly.
Termination of the sitting wall can be achieved with two or more matching columns also made of Olde English wallstones. The number of columns to build is determined by the perimeter layout and overall design of the area. An Olde English Column Cap, Cap & Hat or a lighting fixture can be added atop the columns. Wall/Tread Lights or Corner/Column Lights from Cambridge can be integrated into the walls and columns.
Cambridge Olde English Wallstones will not only build walls of various types, columns and a waterfall but are found in other Cambridge Pre-packaged Kits — a barbeque and fire pit, an outdoor kitchen and an outdoor fireplace. Consider using Cambridge Olde English Pavingstones with ArmorTec on the patio itself as well as steps and walkways.
Detailed installation instructions, short animations and videos can be found regarding many of these projects at http://cambridgepavingstones.com. Cambridge has also published a DesignScaping Handbook, which is available online as well as in hardcopy from Cambridge Sales Specialists. Contact information is posted on the Web site.