The four "Ps" for home show success
July 03, 2012
Spring consumer home shows can be an incredibly effective promotion and sales tool for small businesses and hardscape contractors are no exception. But they can also be a complete waste of time and money. And whether home show participation is a booming success or a very costly wipeout for your small business depends a great deal on how four factors are handled — preparation, presentation, partnering and promotion. Here are some valuable tips under these four strategic areas to help maximize the return on your investment from any pre-season shows where you plan to exhibit.
Preparation
The Boy Scouts of America has a motto — "Be Prepared." If you are prepared for everything, you will be surprised by nothing. This motto can be effective in numerous ways when scheduling home show participations.
First and foremost, setting clear goals is important. Ask yourself, "What do you want to get out of it?" Be specific. For example, are you introducing new products or services? Or are you new in the area? Next, do some research. Choose the shows that will give your business the best return on investment in terms of your goals. If your business is localized, make sure that the event locations are well within your trading area.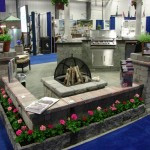 You want to choose home shows that best target the audience that you want to reach and best suit your participation goals. Most home shows attract a diverse mix of exhibitors from interior products to exterior products while others may be limited to flowers and gardens. Find out what the particular show promoter's objectives are, and then evaluate the audience.
According to Charles H. Gamarekian, Chairman/CEO of Cambridge Pavers Inc, makers of Cambridge Pavingstones with ArmorTec®, Cambridge Wallstones and a complete line of outdoor living products, "Our 25-plus years of selling experience and numerous focus group findings have told us that the most serious customers and decision makers are women, between ages 35 to 55 years old who own their own homes with annual household incomes of at least $150,000."
Once you've chosen a particular show or shows, plan your budget and book your exhibit space early while the best booth locations are not taken. Find out everything you can about your space, especially where it is on the exhibit floor. Inquire as to what kind of other exhibitors and displays will be around your location. Also, determine whether yours is a high traffic or low traffic spot on the floor. Corner locations on main corridors, although more expensive, are prime spots. Find out as much as you can about the physical conditions of your display space, such as dimensions, lighting and backdrop provided by the promoter.
Presentation
Unlike trade shows, which target others in the professional community, the primary target of home show promoters is the consumer, mainly homeowners. The quality of your booth will make or break your experiences. In a desire to create displays that will draw crowds, exhibitors new to trade shows tend to focus on the flashy, but that is not always the point. Remember, it's not the number of people that your exhibit draws but whether or not your exhibit engages them when they're there. Homeowners want to see products such as pavers; wall systems and outdoor living enhancements displayed in cohesive "real life" settings. Depending on the size of your exhibit space, this can be achieved with smaller "vignette-style" displays or by turning the entire booth into a facsimile of a backyard patio complete with an open-air kitchen, outdoor fireplace or fire pit, water feature and more. Top off your display's visual impact and inviting style with authentic landscaping, flowers and other props such as cookware, tableware and small furniture to add to the finished appearance. The more effort you put into it, the more you will get out of it.
Signage with your logo and/or company name prominently displayed is very important because it supports the branding of your company while identifying the booth's host. Other visual aids such as photo blow-ups of your projects and video presentations will help get your message across to the consumer and create general interest and generate booth visitor staying power. Why not show your video presentation in a static slide format or with live footage on a wide screen monitor incorporated into your hardscape design. Signage should be professional quality. You can obtain what you need ranging from banners to pop-ups from a number of sources — local sign shops, exhibit designers and hardscape manufacturers.
Partnering
A great way to add credibility is to partner with a hardscape manufacturer that has strong brand awareness, extensive media exposure and a long-standing good reputation in your market area. Partnering with a single manufacturer rather than showing multiple brands of pavers and wall systems will prove to be your best move. It will show the homeowner that you stand behind a brand that you personally believe in and recommend, thus supporting your professional expertise.
Many manufacturers such as Cambridge offer valuable incentives for hardscape contractors who plan to exhibit at home shows. Currently the incentive from Cambridge holds a value of over $1,000 and makes available to exhibiting contractors four pallets of either Cambridge Pavingstones with ArmorTec® or Cambridge Wallstones for use in design of the booth. The company also has a library of visual aids as well as display and promotional material that can also be made available.
Promotion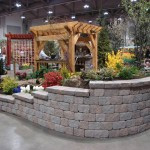 And last but not least is promotion — tools designed specifically to encourage and/or advance action and the rank of a company or brand in the consumer or trade community. Tools can include publicity, media, direct mail and Internet marketing and advertising, free samples, brochures and even personal appearances. All promoters must advertise their home show events. Many of them also invite exhibitors to join, to lesser or greater degrees, in the advertising and promotional material they develop. This can vary from having a listing to a display ad in their event journal or directory, but you need to know exactly what is available to your company. Don't short change doing your own promotion be it through e-mail broadcasts to your customers, sending press release announcements, or paid advertising in area newspapers.
Promoting something like a live demonstration, a question and answer session or a special guest appearance within your booth or at a specific place within the exhibit hall can generate a lot of consumer interest. Promoters are looking for ideas. Hardscape manufacturers like Cambridge and their authorized distributors are experienced in this and are only to willing to be of assistance. You may discover that they have booths at the same shows.
Put the word out that you're participating in a particular trade show by inviting your clients, customers, suppliers, and other contacts to attend the show. Be sure you give them all the details, such as the dates, places and your booth numbers.
Make sure you have plenty of promotional literature on hand — business cards, color fliers and brochures as well as order forms and price sheets, if required. It is best to place these items in a location where people will have to walk into or through your booth to get them. If you have a website, be sure that your Internet address is clearly displayed on all of the aforementioned items.
Have references and any testimonial letters on hand as well along with names addresses and contact information of your projects once you have obtained permission from the homeowners. Promoting some kind of prize drawing or contest as part of your program is a great way to collect contact information from booth visitors. You can give away promotion items with your company name and contact information to encourage people to participate in the contest.For control and follow up, you will also need lead generation forms so you can keep track of prospects and what services or products they are interested in. Don't become a post-season quarterback. The moral of the story is to be pro-active and put the 4 Ps for home show success in your playbook.