It's okay if the trip to a backyard paradise takes a little longer
December 05, 2012
Homeowners are continuing to change plans from vacations to stay-cations as dreams of tropical islands become visions of transforming backyards into elaborate paradises, laden with creative-features that can be enjoyed all year long. However, budgetary realities can often discourage homeowners from fulfilling their dreams for a total outdoor living experience. There is a solution for those who are deliberating over a budget or a start date. Think big, but start small - accomplish a grand design scheme one section at a time. Completing a project in several phases may require a crystal ball or relying on the talents of a professional contractor who just may have one in their tool bag.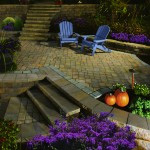 For example if you are starting with an in-ground pool, think interlocking concrete pavers for your surrounding pool deck. Many hardscape contractors can handle your pool installation and the interlocking pavers as well. A paver system such as those offered by Cambridge, manufacturers of pavingstones, wallstones and a comprehensive line of outdoor living products in pre-packaged kits, are ideal for poolside applications. The colors of Cambridge Pavingstones with ArmorTec® will not fade from the sun or harsh weather and the pavers can be easily removed and reinstalled in an area where future repairs of underground utilities may become necessary. Adding square footage at a later time is very doable.
On the other end of the scale of things, you can start with a fire pit that is positioned within a short distance away from the back of the house. It can be custom-built or again, ready-to-install, pre-packaged kits are available in an array of colors, styles and textures in square and round configurations. If roasting marshmallows and frankfurters on a stick as well as grilling steaks, chicken, seafood and corn on the cob perks-up your taste buds, consider a barbeque and fire pit from Cambridge with cantilevering grills and you can do it all with one pit. Add a small paver area adjacent to the pit and perhaps a low wall for casual seating around the pit and you are off and running to phase one of a great outdoor lifestyle experience.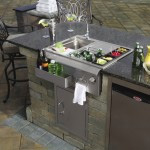 Grade changes can present challenges especially when projects are completed in segments. But this should not stop your contractor from planning the completion of your backyard project in phases. In a multi-level patio design, he will probably suggest starting at the lowest level of the grade, using perimeter walls to bring up the grades according to number of elevations in the plan. For instance, if a finished project embodied 100 cubes of Cambridge brand pavers and walls and totaled three levels when completed, an outdoor kitchen complete with a stainless steel appliance package and a pizza oven all from pre-cut/pre-packaged Cambridge Kits could be laid out on the top level for a convenient cooking and food preparation area. This could step down to a mid-level, comprised of a striking outdoor fireplace with the optional added features of dual wood storage boxes flanking each side. Sitting or dining elements and a Cambridge Bar Module with a professional quality, stainless steel Bull® Bar Center Package, sink, refrigerator and a Patio Pub & Bistro Table from a Cambridge would also work well on this level. All countertops in these pre-cut/pre-packaged kits are polished granite and include all of the hardscape materials needed. Working with kits such as those from Cambridge afford the homeowner a totally coordinated plan, which considers color, texture and overall style, while saving valuable project management and installation time. The bottom level, installed first, could be the smaller patio with a fire pit kit.
Before beginning a project that is to be completed over an extended period of time, it is best to see a drawing that illustrates the full spectrum of the venture. The rendering can be prepared by a landscape architect or your contractor who can create one internally using one of the many digital software tools in the market such as the Cambridge DesignScape Visualizer™, which will show you professional looking, computer-generated renderings with "before and after" views. The drawings help him pinpoint certain areas and develop a workflow in order to give you, the homeowner, a sense of reward after certain phases reach completion.
So don't hesitate to show your contractor a wish list - large or small. Tell him to bring along his crystal ball, and you will be surprised at how soon you will be enjoying your own piece of paradise… right in your own backyard,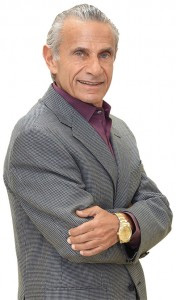 About the writer:
Charles H. Gamarekian is the Chairman/CEO of Cambridge Pavers Inc., manufacturer of Cambridge Pavingstones with ArmorTec®, Cambridge Wallstones and a full line of products for outdoor living. He is one of the founders and a current board member of the Interlocking Pavement Institute. Organized in 1993, ICPI is the North American trade association representing the interlocking concrete paver industry and considered by peer associations around the world as the leader in development and dissemination of technical information for design professionals and contractors. Mr. Gamarekian is recognized worldwide as an expert in his field and is a frequent speaker on the proper installation of pavingstones, wallstones and many outdoor living products.