Take a fresh look at today's case stone products
November 29, 2012
Cast stone products have come a long way from ornamental benches, columns, handrails and balusters, statuary and other architectural accoutrements. For starters, colors and textures now resemble natural stone and not just natural cement. It is also refreshing to see their entry into the mix of modern-day hardscape products and as a result, many hardscape product manufacturers have jumped onto the bandwagon and are offering an interesting mix of cast stone items along with their traditional, concrete paver and wall selections. They are representing viable alternatives to many of the age-old masonry and concrete components used in landscape or exterior architectural design.
According to Charles H. Gamarekian, Chairman/CEO of Cambridge Pavers Inc., manufacturers of Cambridge Pavingstones with ArmorTec®, Cambridge Wallstones and various outdoor living components and amenities (kitchens, grills, fireplace, waterfalls, etc.), the company's selection of cast stone landscape and patio design products now includes slab pavers; wall and column caps; pool, spa and pond coping substitutes; staircase treads; as well as outdoor fireplace and pizza oven surrounds. "Our cast stone products offer diversified design options for our contractor-customers," elaborated Gamarekian. "When combined with our pre-cut and pre-packaged kits, size options and the breadth of labor-saving advantages is hard for professional installers whose mindsets are steeped into traditional, concrete paver and wall products, to ignore their value."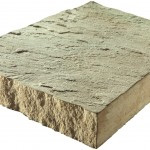 For example, cast stone stair treads and staircase kits are available in two different widths: 48 inches and 72 inches. With the pre-packaged Cambridge Cast Stone Staircase Kit, contractors can build a 4-step, 24-inch high staircase measuring 58 inches deep in a choice of Bluestone or Chestnut color. Column capping is also made easy with pre-cast caps, also available by hardscape manufacturers in different styles. Cambridge offers three styles of column caps - Flat, Pyramid, and Light - in two dimensions (24 inches by 24 inches and 26 inches by 26 inches), which will provide 1-inch and 2-inch reveals when topped onto Cambridge pre-packaged and custom-built columns. Adaptable to most any column of any material, the colors and textures of the Cambridge cast stone line up are especially well-coordinated with all of the company's other products including outdoor living room components.
In keeping with a national trend toward larger-scale pavers, which was inspired by European designers and specifiers, slab pavers are also obtainable from hardscape distributors such as within the Cambridge network who now offer aversatile, Cast Stone Slab 3-Pc. Design Kit in five, geologically-inspired colors: Sage, Rose, Bluestone Blend, Sandstone and Rustique. The three 2 3/8-inch thick modular shapes, which measure 10 inches by 20 inches, 20 inches by 20 inches and 20 inches by 30 inches, can be randomly placed in any pedestrian pavement application. The ratio used in the most popular patterns, as provided by Cambridge, is 28% of the 10-inch by 20-inch shape; 33% of the 20-inch by 20-inch shape; and 39% of the 20-inch by 30-inch shape, which conveniently, is how the design kit is pre-packaged. "The professional landscape designer community will appreciate the bold surface clefts that were created using molds from natural bluestone," added Gamarekian.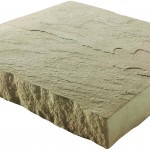 The deep clefts are also apparent on the surfaces of the four shapes ("A", "B", "C" and "D") that comprise the Cambridge Ledgestone Cast Stone group, which are applicable to straight, curved and serpentine designs in pool copings, steps, wall caps and pavingstone borders. The clefts are similar but more pronounced than those found on surfaces in the Cambridge Ledgestone concrete pavingstone series. It was this bluestone-like texture that catapulted the Ledgestone Series to Cambridge bestseller status.
The four configurations are all 2 3/8-inches thick and 14-1/2-inches deep. Three of the shapes are trapezoidal. The lengths of the "A" shape measure 11 3/4 inches and 9 3/8 inches; the "B" shape lengths are 15 7/8 inches and 13 3/4 inches; and the "C" equals 18 25/32 inches and 16 1/2 inches. The lengths of the fourth "D" shape are equal at 19 inches. All four pieces are suitably packaged on one pallet. One cube contains seven corner units that can be used as right or left corners as well as regular shapes. The total linear feet per cube is 50.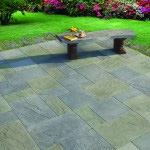 This multi-use option in cast stone is available in seven shades including the company's new Sandstone, Sage and Rose tri-color blends. The remaining blended colors are Onyx/Chestnut, Sahara/Chestnut, Toffee/Onyx and their well-liked Bluestone.
Landscape contractors are encouraged to revisit the newer cast stone alternatives on the market where they will discover beautiful and cost-efficient products suitable for an array of residential, commercial and municipal projects.