Versatility makes manufactured wallstones the perfect landscape and garden wall solutions
November 20, 2012
Manufactured wallstones are more than just functional, and when properly installed, should in no way be compared to painted or texture-faced, cinderblock landscape wall units that are subject to chipping, peeling, cracking, dislodging and more importantly, structural failure. When compared to natural stone such as sandstone, slate, limestone, granite and flagstone, manufactured wallstones are usually a far less costly material. Because the wallstones are designed to use in a wall system, versatility and ease of installation are also prime factors.
Contingent on the attributes of the product, tree rings, freestanding and retaining walls, straight, curved and serpentine walls, as well as various types of perimeter walls that can also serve as casual seating areas can often be built with the same style of wall unit. A nice add-on when deciding on a wall system for fencing on the perimeters of property or as a separation between say, the front and backyard or a pool area, is the integration of a garden or entry gate. A good choice for you may be a pre-packaged, solid teak Cambridge Brand Garden Gate Kit that is made to fit at any point in a wall system by flanking both sides of the gate with a column built of Cambridge Wallstones. All necessary hardware is included.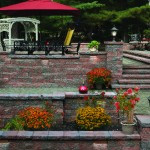 Wallstones are commonly available with single-sided or double-sided, natural rock textured and/or distressed (aged-looking) faces. The choice is personal and also depends largely on what type of wall you are planning and what surfaces will be exposed once installed. Some styles are available with right or left corner units. Because of their modular configurations, the wallstones can be easily arranged in staggered, running bond patterns that give a tailored design or in some cases, random positions. An excellent example of the versatility is the MaytRx® Wall, one of many styles from Cambridge, which consists of four different sizes for a true unsystematic pattern. By design, the system can be installed upright or with a slight set back. MaytRx is available in two heights — 3″ and 6″. By mixing the heights and setting some of the wallstone units standing upright on their side, (a.k.a. "soldier"), an even more natural arrangement will be achieved. The wallstones are double-sided and come in a "split face" rock style or with the shapes further distressed for the look of an aged wall. Cambridge also offers capstones that will adapt to a variety of applications as well as a matching, pre-packaged kit for columns that can be positioned at corners or termination points.
Because they are manufactured under stringent, controlled standards, premium wallstones such as those offered by Cambridge, assure a tight-fitting system without sacrificing a desired natural stone appearance. This effectively eliminates the many crevices found in natural stone installations that can attract animal nesting and the accumulation of debris that usually occurs with freely placed, loose-fitting natural rock. It is also nice to know that color and texture options in manufactured wallstones will be both architecturally and environmentally compatible with a home's style and other visual characteristics as well as a surrounding landscape be it woods, a simple tree or shrubbery line, garden bed or a dramatic panorama.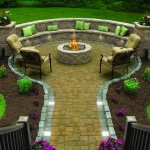 Another all-around wall style to consider may be the modular and uni-sized Cambridge Olde English Wall®, which has two configurations — one suited best for straight wall designs and an additional trapezoidal shape used for creating curved, circular and winding walls by alternating front and back sides as the run progresses. Olde English is part of a family of pavingstones, wallstones and outdoor living components.
Just as color and texture can attract the consumer to a particular natural rock or an interlocking concrete pavement, so it is with wall systems. A model for this is Cambridge Ledgestone Wall. The rock face has bold ridges and deep clefts as found in flagstone, without the sharp edges. One of the most popular of the four colors is the Bluestone Blend. Other blended shades are also formulated to match their natural stone counterparts found in various geographic regions. The wallstones are one size and can be used in a variety of single-sided applications from freestanding and retaining walls to steps and edging. A Ledgestone Wall Corner for left and right corners is also available and sold separately. With its similar texture, this wall system is a perfect accompaniment to the Ledgestone Series of Cambridge pavers.
The advantages of a segmental wall of manufactured wallstones do not end there. Leading manufacturers of pavers and wallstones, such as Cambridge, have extended their product lines to also include an array of outdoor living room components. The products, depending on the manufacturer, can include outdoor fireplaces and fire pits, open-air kitchens and pizza ovens, refreshment bars and patio tables, and pond-less waterfalls. Cambridge offers these, as well as, decorative columns, pergolas and pavilions in pre-packaged kits for added convenience and easier installations. These outdoor lifestyle enhancements have wallstones integrated into their design or procedure for installation, which can be coordinated to match landscape wall systems in your overall design.
Proper installation of a wall system involves excavation, base preparation including a levering course of C-33 sand into the bottom of the resulting trench, leveling, in some instances back fill, and other factors that must be taken into account. For retaining walls over 36″, an engineer may be required. Check with local officials for regulations that cover the wall that you will be building before beginning wall projects. Not all wall designs are ideal for do-it-yourself projects; you may want to engage the services of a professional landscape designer or hardscape contractor for best results. Equally important is choosing wallstones that carry a recognized brand name, such as Cambridge, for quality assurance and not opting for a less than premium, low-price, promotional alternative from a "box store", whereby the integrity, durability and versatility of the wall system could be compromised.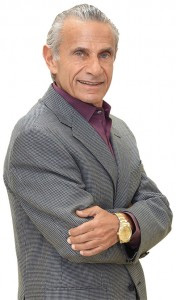 About the writer:
Charles H. Gamarekian is the Chairman/CEO of Cambridge Pavers Inc., manufacturers of Cambridge Pavingstones with ArmorTec®, Cambridge Wallstones and a full line of products for outdoor living. He is one of the founders and a current board member of the Interlocking Concrete Pavement Institute. Organized in 1993, ICPI is the North American trade association representing the interlocking concrete paver industry and considered by peer associations around the world as the leader in development and dissemination of technical information for design professionals and contractors. Mr. Gamarekian is recognized worldwide as an expert in his field and is a frequent speaker on the proper installation of pavingstones, wallstones and many outdoor living products.