Heavily textured pavers remain in fashion
November 14, 2012
The trend toward heavily textured pavers made its debut on the hardscape scene a few years back and it continues to grow as the 2012 seasons gets underway. The reason for this rise in popularity stems from homeowner desires for a well-planned, yet completely natural-looking, outdoor environment. The surface choices offered on this type of paver can play an integral role in achieving that goal in an overall landscape design.
In addition to texture, many of the concrete pavers that fall into this category offer a newer sense of scale by combining one or more shapes ranging in size from small to quite large, in noticeably varied, modular configurations. Even corners and edges vary from one style to another. The shapes can be placed freely in random or somewhat structured laying patterns at the discretion of the landscape architect, designer and/or contractor. Cambridge is one manufacturer that has addressed these designer and homeowner predispositions by offering attractive options in textured pavers, particularly with three styles that the company continues to improve upon each season.
The Look Of A Natural Bluestone Pavement With Noteworthy Installation And Budgetary Advantages
The first from Cambridge Pavingstones with ArmorTec is their Ledgestone Series. A 3-pc design kit, referred to as Ledgestone IV comprises three specially designed, modular shapes (13 3/16″ x 8 3/4″; 8 3/4″ x 8 3/4″; and 8 3/4″ x 4 5/16″) each possessing a premium level, architectural finish with prominent bluestone-like clefts on the surfaces.
Three other modular shapes, which are packaged individually, serve as adjunct components of the Ledgestone Series — a square 9 x 9 (8 3/4″ x 8 3/4″), a rectangular 9 x 18 (8 3/4″ x 17 9/16″), along with a much larger 18 x 18 (17 9/16″ x 17 9/16″). These shapes can be integrated into a pattern along with the three pieces in the design kit. They can also be used individually, together, or as a border treatment. The versatile Cambridge Ledgestone Series from The Cambridge Sherwood Collection is available in eleven colors including a new Bluestone Blend.
An Antique Look For A Modern Pavement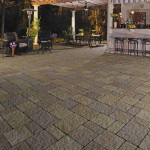 Another Cambridge 3-Piece Design Kit worth considering is AbbeyStones™. In addition to a textured surface with similar traits to those found on natural stone pavements, AbbeyStones shapes have gracefully scalloped edges, which, in a pattern, create a rather unique look along the joints. Sizes of the three shapes are: 15 23/32″ x 10 15/32″; 10 15/32″ x 10 15/32″; and 10 15/32″ x 5 7/32″. Six color choices are available.
For a distressed appearance, Ledgestone and AbbeyStones shapes are also offered from The Cambridge Renaissance Collection. The aging technique was modeled after the walkways, piazzas and roadways of the European Renaissance. With a specially selected palette of colors to choose from, these aged pavers are ideal for any historic, vintage or contemporary landscape.
Genuine Crystals Can Put The Magic Into A Hardscape Design
Last but not least to be recognized for its unique characteristics is Cambridge QuartzTec™. The striking beauty of Black Crystals seen on the surface of the 6 x 6 and 6 x 9 pavers and a Circle Design Kit make QuartzTec, the "jewel of the Cambridge Sherwood Collection". This is the same collection that also embodies The Ledgestone Series and Abbeystones. Each QuartzTec shape boasts gentle, rolled edges and a soft, dimpled surface. However, what truly sets Cambridge QuartzTec apart is accomplished through an advanced manufacturing process at Cambridge whereby the shell-colored pavingstones are infused with genuine black crystals to create a dramatic granite-like surface texture that is remarkably smooth and gentle on bare feet. According to Cambridge, the kiln-fired crystal pigment will remain vivid over time.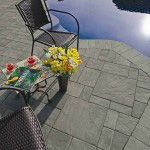 Although beautiful in of itself, many landscape designers are also incorporating QuartzTec into fields and circle patterns along with other paver styles and colors as borders, banding and rings. Other crystal colors (red, blue and green) are available as a custom order.
As an added value to your customers, every Cambridge Pavingstone is produced with ArmorTec. The advantage is a smooth, dense and skid-resistant surface with rich color that will maintain its true integrity. Yes, textured pavers are the "in" thing and Cambridge Design Kits and modular shapes give contractors the right products to achieve great results in a cost efficient manner. More information and installation methods can be found on cambridgepavers.com.