How to create the perfect summer night gathering
July 02, 2018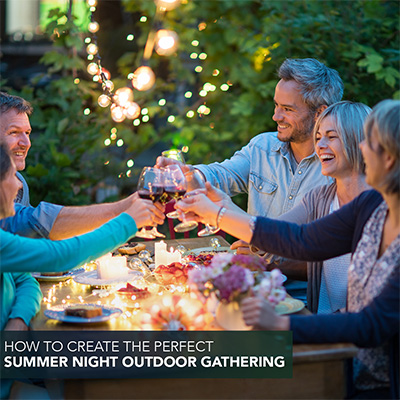 Fire features are the ultimate way to create a cozy summer night. They are natural gathering areas and a great start to the end of busy day. A cracking fire subtlety brightens your outdoor living space while creating a relaxing ambiance that your friends and family will love. A toasty fire not only adds light, but also adds heat which you'll surely appreciate on chilly nights. It is the ideal and most common way of heating up an outdoor living space and is a nice place to cozy up on a summer night. Cambridge pavers offers a variety of fire features to fit your outdoor living style. Installation of fire features is quick and easy and the options are endless. Fire pits, fire tables, fire places, the eternal flame, and even water fire fountains are great additions to any outdoor living space and the key to success to a summer night gathering.
Another easy fix to dark evenings are string lights! Hanging string lights or lanterns is a fun way to give your patio the glow it needs. Give summer nights a festive feel by hanging them up on trees and fences or on outdoor structures like pavilions, pergolas!
Pavilions are the perfect structures to spend summer nights under. They merge the comfortable feeling of being indoors with the refreshing feeling of being outside. Having shelter from unexpected weather may be what separates a successful gathering from a failed one. Adding a pavilion is a great way to enjoy your patio all year round!
According to the National Association of Realtors, the casual setting of a home bar is on the rise and more people are entertaining larger crowds in a "help yourself" type of atmosphere. An outdoor bar is the perfect way to create a relaxing- hassle free environment. Summer night gatherings are all about enjoying yourself and the company of others. The last thing you want to be doing is worrying about being the perfect host and pouring drinks. Outdoor bars look great, create an easy-going atmosphere, and keep things fun with minimal effort.
Last but not least, everyone has noticed a rise of gadgets and gizmos. Investing in outdoor technology may be what makes your outdoor living space the talk of the town. Night time is the perfect time to unravel and a lot of people do it by streaming shows and movies or catching up on social media! Extending your Wi-Fi will give you the ability to incorporate Bluetooth speakers and streaming devices in your backyard and an outdoor TV is a sure-fire way to get the kids outside as well as a great idea when hosting a sporting events!