Thanksgiving Grill
November 02, 2018
Thanksgiving Grill
Open air dining is a fun and memorable way to spend time with your family, so take Thanksgiving outdoors this year! These delicious recipes (courtesy of Family Circle) are perfect to make on your Cambridge outdoor kitchen or grill!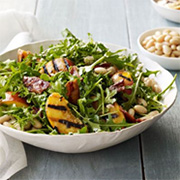 Grilled Peaches, Beans and Arugula with Warm Bacon Dressing
What you'll need (4 Servings)
• 4 peaches, halved and pitted
• 5 slices bacon
• 1 large shallot, finely diced
• 2 tablespoons white balsamic vinegar
• 1 1/2 teaspoons Dijon mustard
• 1/4 teaspoon black pepper
• 5 ounce arugula
• 15 ounce cannellini beans, drained and rinsed

1. Heat grill or grill pan to medium-high. Brush lightly with oil. Grill peaches cut-side down for 4 minutes; cut into wedges and set aside.
2. Meanwhile, cook bacon in a large skillet over medium heat for 8 minutes. Remove bacon with tongs to a paper towel-lined plate. Reduce heat to low. Pour off all but 3 tablespoons of the bacon drippings. Add shallot and sauté 1 to 2 minutes or until slightly softened. Whisk in vinegar, mustard and pepper.
3. Crumble bacon and toss in bowl with arugula, beans, grilled peaches and warm dressing. Serve immediately.
Grilled Corn Pudding
What you'll need: (8 Servings)
• 4 large ears corn, shucked
• 5 eggs
• 1/4 cup all-purpose flour
• 1 cup heavy cream
• 1/2 cup milk
• 1/4 - 1/2 teaspoon hot pepper sauce
• 1 tablespoon sugar
• 1 teaspoon salt
• 1/4 teaspoon black pepper

1. Heat gas grill to medium heat or prepare charcoal grill with medium-hot coals. Coat corn with nonstick spray for grilling. Grill about 12 minutes, turning frequently, or until ears are lightly charred. Remove and let cool. Cut kernels from ears; you need 2-1/2 cups total; save any extra for another use. This step can be done several hours ahead.
2. Heat oven to 350 degrees F. In large bowl, lightly beat eggs, then beat in flour, cream, milk, hot sauce, sugar, salt and pepper. Stir in corn. Coat a 2-quart baking dish with nonstick spray. Add corn mixture.
3. Bake at 350 degrees F for about 30 minutes or until pudding is set in middle. Let sit at least 15 minutes before serving.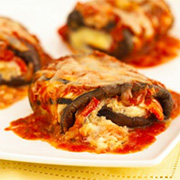 Eggplant Rollatini
What you'll need: (4 Servings)
• 2 medium-size eggplant (about 2-1/4 pounds total)
• 1/2 teaspoon salt
• 1 1/2 cups shredded part-skim mozzarella cheese
• 1 cup part-skim ricotta cheese
• 1 egg yolk
• 1/8 teaspoon dried Italian seasoning
• 1/8 teaspoon ground black pepper
• 12 ounce roasted red peppers, drained, or homemade fresh-roasted peppers, if desired
• 1 1/2 cups prepared low-fat marinara sauce
• 2 tablespoons grated Parmesan cheese

1. Trim tops and bottoms from eggplant. Cut each into 6 lengthwise slices, about 1/2-inch thick. Spread slices onto 2 large cookie sheets lined with paper towels. Sprinkle slices with 1/4 teaspoon of the salt, then turn slices over and sprinkle with remaining 1/4 teaspoon salt. Let stand 15 minutes, flipping slices halfway.
2. Heat grill or grill pan to medium-high heat. Quickly rinse eggplant slices under running water; pat dry. Spray both sides with nonstick cooking spray. Grill slices until softened and nicely marked, about 4 minutes per side. Return slices (do not overlap) to large cookie sheets (without paper towels).
3. Heat oven to 350 degrees F and coat a 13 x 9 x 2-inch baking dish with nonstick cooking spray. In a small bowl, stir together 3/4 cup of the mozzarella, the ricotta, egg yolk, Italian seasoning and pepper. Stir until well combined.
4. Divide red pepper pieces evenly among eggplant slices, placing them on the wider end of each slice. Top each pepper with a heaping tablespoon of cheese filling. Place 1/2 cup of the marinara sauce on the bottom of the prepared dish. Roll up eggplant slices, starting at the wide end and enclosing filling. Place in dish. Top with remaining 1 cup marinara sauce, remaining 3/4 cup mozzarella and the grated Parmesan cheese.
5. Bake at 350 degrees F for 25 minutes. Remove to wire rack and cool at least 10 minutes before serving. Add salt to taste.

Photo and Recipe Courtesy: Family Circle