Blissful Winter Cocktails
December 01, 2018
Blissful Winter Cocktails
Tis' the season! What better way to welcome the most joyous time of the year than cozying up next to your fire place with a Winter cocktail? These festive drinks are easy to make, taste delicious, and will impress your holiday guests! Three of our favorite recipes are a Cranberry Mimosa, Gingerbread Eggnog, and Drunk Jack Frosties. (Courtesy of Delish)! Drink responsibly- you don't want to end up on Santa's naughty list!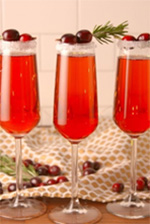 CRANBERRY MIMOSA
INGREDIENTS:
• 1 lime, halved
• 2 tbsp. sugar
• 1 c.sweetened cranberry juice
• 1 bottle champagne
• 12 fresh cranberries
• 4 small sprigs fresh rosemary

DIRECTIONS:
1. Rime champagne flutes with lime and dip in sugar. Pour 1/4 cup cranberry juice into each glass and top with champagne.
2. Use a toothpick to poke a hole through cranberries. Thread rosemary skewer through cranberries and garnish mimosas.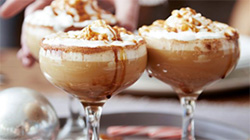 GINGERBREAD EGGNOG
INGREDIENTS:
• 1 tbsp. cinnamon sugar
• Ice
• 1 c. eggnog
• 1 c. vodka • 1 c. Kahluua
• 2 tbsp. molasses, plus more for drizzling
• Pinch ground ginger
• Whipped cream, for topping

DIRECTIONS:
1. Wet rims of four cocktail glasses and dip in cinnamon sugar.
2. In a cocktail shaker filled with ice, add eggnog, vodka, Kahluua, molasses, and ginger and shake to combine.
3. Pour into rimmed glasses. Top with whipped cream and drizzle with molasses before serving.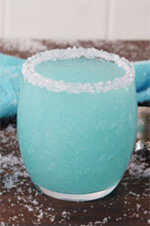 DRUNK JACK FROSTIES
INGREDIENTS:
• 1 c. vodka
• 1 c. Champagne
• 1/2 c. Blue Curacao
• 1/2 c. lemonade
• 3 c. ice
• Lemon wedge
• white sanding sugar

DIRECTIONS:
1. In a blender, combine vodka, champagne, blue curacao, lemonade and ice. Blend until combined.
2. Run a lemon wedge around the rim of each glass then dip in sanding sugar.
3. Pour frosties into rimmed glasses and serve immediately.

Photo and recipe courtesy from Delish