3 Steps to Throwing the Best Holiday Party on a budget
December 02, 2018
It's the most expensive- I mean... wonderful time of the year! Between gift buying, wrapping, and celebrating, who has left over cash to throw a holiday party with friends? Good news- you don't need a lot of money to throw a fun holiday party.

Invitations
There are tons of sites which allow you to create electronic invites for free! The most popular source is evite.com. This platform allows you to choose from many themed templates or even allows you to create your own! Throw in some snowflakes and bright colors, and there you have it, the perfect evite! They are sent out to a list of email addresses that you should have saved for the people you are inviting!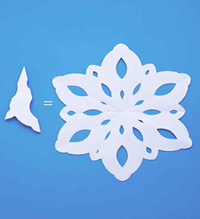 Making Decorations
Decorations can be costly when buying from a party store, so why not make your own instead? Paper snowflakes are so simple, yet elegant! Here are some tips on how to make the best snowflake decorations.

1. Fold the paper in half diagonally to make a triangle.
2. Now, fold the triangle in half so the pointy corners meet.
3. Fold your triangle in thirds. You may need to adjust these folds a little to get the sides to match up, so don't crease the paper until the folds are just right.
4. Cut across the bottom of your paper so it is straight.
5. Cut your folded paper so it looks like the triangle above.
6. Then unfold it gently. Don't worry if your snowflake isn't exact: No two snowflakes are ever alike.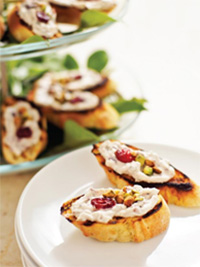 Food
Lastly, and most importantly, the food! Appetizers are not only delicious, but a great wat to keep your guests full and satisfied on a budget! Here is one example of an appetizer that will wow your guests at your Holiday Party.


Toasted Crostini with Herbed Cream Cheese Spread
Ingredients:
• 1 large or 2 medium baguettes
• olive oil
• 8-oz. package of cream cheese, softened at room temperature
• 1/3 cup dried cranberries
• hot water
• 1/4 teaspoon garlic powder
• 1/4 teaspoon salt
• black pepper to taste
• 2 teaspoons fresh rosemary, finely chopped
• 1/2 cup pistachios, finely chopped

Instructions:
1. Place cranberries in a small heatproof bowl.
2. Pour enough hot water over cranberries to just cover. Soak for at least 15 minutes.
3. Cut the baguette diagonally into one-inch slices.
4. Using a pastry brush, coat one side of each slice with olive oil.
5. Grill the baguette slice, oil-side down, on a grill pan until toasted.
6. Strain cranberries, reserving the liquid.
7. Pick out 20 cranberry pieces and set aside for garnish. Chop remaining cranberries and place in a medium bowl.
8. Add cream cheese, garlic powder, salt, pepper, rosemary and reserved liquid to cranberries. Mix until well combined.
9. Spread cream cheese mixture onto toasted baguette slices.
10. Garnish with cranberry pieces and sprinkling of pistachios.