Recipes to Start the New Year Off Right
January 01, 2019
After an indulgent holiday season filled with lots of goodies, the New Year rolls around, and so do the resolutions. Trying to keep your diet on track can be really tough, but with these recipes, it'll be very tasty. Some of our favorites are Steak Fajita Wraps, Banana Pancakes, and Spaghetti & Meatballs. (Courtesy of Delish)! Keeping your resolutions in check should be fun and delicious – with these recipes, we've got you covered!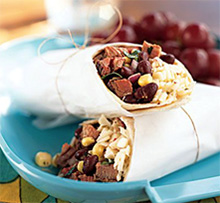 STEAK FAJITA WRAPS
INGREDIENTS:
• 1 c. frozen whole-kernel corn
• 1/2 c. chopped fresh cilantro
• 2 tbsp. minced red onion
• 2 tbsp. fresh lime juice
• 1 tbsp. extra-virgin olive oil
• 1/2 tsp. ground cumin
• 1 tbsp. salt
• 1 tsp. Freshly ground black pepper
• 1 can black beans
• 2 1/4 c. chopped Basil Grilled Flank Steak
• 6 fat-free flour tortillas
• 3/4 c. shredded Monterey Jack cheese with jalapeño peppers

DIRECTIONS:
1. Combine first 9 ingredients, stirring well to coat.
2. Arrange about 1/3 cup Basic Grilled Flank Steak down center of each tortilla. Top each tortilla with about 1/3 cup corn mixture and 2 tablespoons cheese; roll up. Wrap sandwiches in aluminum foil or wax paper, and chill.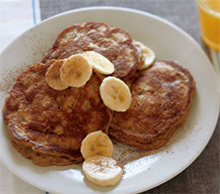 BANANA PANCAKES
INGREDIENTS:
• 3 ripe organic bananas
• 2 tbsp. sweet organic butter
• 4 tbsp. low-fat organic buttermilk
• 1 tbsp. organic buckwheat honey
• 2 organic free-range eggs
• 1 c. organic oat flour
• 1/2 tsp. baking soda
• 1/2 tsp. kosher salt
• 1/2 tsp. ground organic cinnamon
• 1/4 tsp. ground nutmeg

DIRECTIONS:
1. Stir together the bananas, melted butter, buttermilk, and honey. Add eggs one at a time.
2. Stir together dry ingredients in another bowl and make a well in the center. Pour in wet ingredients and gently combine in as few strokes as possible.
3. Spoon batter 1/4 cup at a time on a preheated skillet or griddle greased with a dab of butter or a few drops of canola oil. Cook for 3-4 minutes on the first side until you can see many bubbles forming on the edges. Flip them over and cook for another minute, or until lightly browned.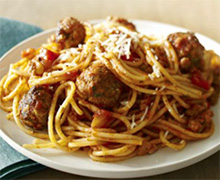 SPAGHETTI & MEATBALLS
INGREDIENTS:
• 2 tbsp. skim milk
• 2 slice thin-sliced white bread
• 1 1/4 lb. ground white-meat turkey
• 1/4 c. grated zucchini
• 3/4 c. finely chopped onion
• 1/4 c. part-skim ricotta cheese
• 2 tbsp. grated Romano or Parmesan cheese
• 2 tbsp. Chopped flat-leaf parsley
• 1 tbsp. garlic paste
• 1 large egg
• 1/2 tsp. kosher salt
• 1/4 tsp. Freshly ground black pepper
• 1 tbsp. olive oil
• 2 c. marinara sauce
• 12 oz. dried spaghetti

DIRECTIONS:
1. In a microwave-safe bowl, heat milk until just warm. Add bread, to absorb milk. Squeeze out extra liquid from bread, then chop.
2. In a large bowl, combine bread, 1 pound of the turkey, zucchini, 1/4 cup of the onion, cheeses, parsley, garlic paste, egg, salt, and pepper. Roll into 1-inch balls.
3. In a large, deep nonstick skillet, heat oil over medium heat. Brown meatballs in batches, 2 to 3 minutes. Remove meatballs to a bowl.
4. Spray same skillet with olive oil cooking spray. Cook the remaining 1/2 cup onion over medium heat until translucent, about 3 minutes. Add the remaining 1/4 pound turkey and cook (breaking it up with a wooden spoon) until no longer pink, about 3 minutes. Add marinara and heat until simmering. Add meatballs, cover, reduce heat to low, and simmer until meatballs are cooked through, about 15 minutes.
5. Cook pasta according to package directions. Serve meatballs and sauce over spaghetti.
Photos and recipes courtesy from Delish