3 Pavilion Ideas that will make a huge Impact on your Property
March 01, 2019
One of Cambridge's most versatile products offered are pavilions. The pavilion design is classic and can be installed with any outdoor living space to add shade and weather protection.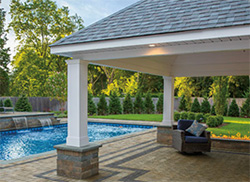 4 Season Outdoor Living:
When creating an outdoor space, an important thing to think of is using it throughout the entire year. One way to be sure to get the most use out of your outdoor space, is to install a pavilion to cover the space. With a pavilion, homeowners' can use their outdoor living space all year 'round, no matter the weather. Other accessories, such as fire features, can be added to further stretch the use of the space.
---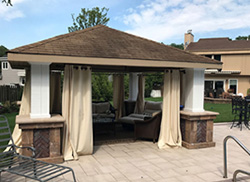 Create a covered outdoor space:
Create an outdoor living space in your backyard by adding a pavilion and hanging a TV under it. Enjoy a movie night or a sports game with your family in this entertainment space, regardless of the weather. Entertain on a hot summer day without having to worry about the scorching sun beating down on you. Under a pavilion, you can entertain no matter what the weather is like. Create an outdoor living room with a seating area, TV and even an outdoor kitchen under the pavilion, and have the perfect place for your family to relax and unwind after a long day.
---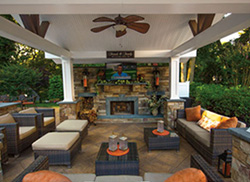 Pavilion products offered:
Cambridge offers pavilions in a variety of ways. There are pre-packaged options, that come in 2 different sizes. But pavilions can also be custom sized in order to meet the needs of individual homeowners. Another pavilion set that is offered is the Pavilion Curtain Set. This set can be added on to an existing pavilion in order to create some sort of privacy for the living space.