Spring Time Drinks to Enjoy on your Patio
April 03, 2019
Get a fresh start to spring with these fun cocktails to enjoy on your patio. With the warmer weather comes more outdoor entertaining. Make these fun and easy spring drinks and impress your guests all season long!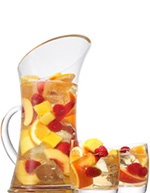 The Favorite Sangria
Ingredients:
1 part SVEDKA Peach
3 parts Ruffino Lumina
1 part white grape juice
1/4 part fresh lime juice
Peach slices
Mango cubes
Raspberries
Apple slices
Other fresh fruit (optional)

Directions:
Combine all ingredients in a pitcher over ice and stir.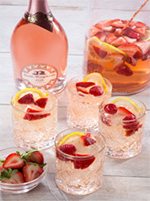 Sparkling Punch
Ingredients:
1 750-ml bottle chilled Santa Margherita Sparkling Rose
3/4 cup limoncello
1 cup fresh raspberries
1 cup quartered fresh strawberries
1 medium lemon, thinly sliced, seeds removed

Directions:
In a large pitcher, combine the limoncello, raspberries and strawberries. Top with the chilled rose champagne and stir in half of the lemon wheels. Pour into old-fashioned glass with ice. Place fruit in each glass and garnish with a lemon wheel, and be sure each glass contains fresh berries.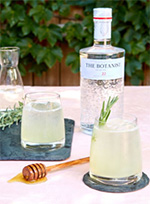 Lavender Honey Fizz
Ingredients:
1.5 oz. The Botanist Gin
.75 oz. fresh lemon juice
.75 oz. White Wine Aperitif
.5 oz. honey water (1:1 honey to water)
4 dashes rosemary bitters
1.5 oz. soda water
1-2 sprigs fresh lavender

Directions:
Combine The Botanist Gin, lemon juice, White Wine Aperitif, honey, and bitters in a cocktail shaker. Add ice and shake. Strain over ice into a rocks glass and top with soda water. Garnish with lavender.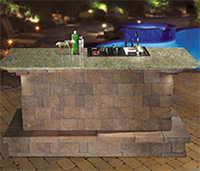 Cambridge Bar Modules
A perfect product to keep in mind when it comes to Springtime drinks and entertaining are Cambridge's bar modules. These kits are pre-packaged, easy to install, and there is absolutely no cutting necessary. Different colors and granite options are available for these modules to best fit the theme of your outdoor space. The Stainless Steel Bar Center package includes a bar caddy, bottle opener, refrigerator, cabinet, and more fun accessories to make outdoor entertaining a breeze!
Photos and recipes courtesy of Marieclaire.com