Spring & Summer Outdoor Design Trends
May 01, 2019
Design trends are constantly changing to keep up with new products and the changing seasons. Some of the hottest trends for the upcoming spring and summer seasons are: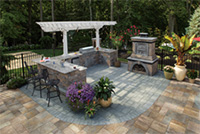 Open-Air Dining
The trend of outdoor dining has been constantly growing throughout the years. Open-air dining allows for a hassle-free entertainment space that your family and friends will love! Outdoor dining also eliminates the mess inside your house. Adding a bar or grill to your outdoor space will up your entertainment game and add value to your home.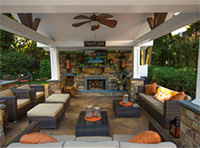 4-season Outdoor Living
Extend your outdoor living throughout the entire year with a covered patio. Cambridge offers products that allow homeowners to cover their outdoor space, but still get use out of it. Adding a pavilion will provide shade and weather protection to your space all year 'round.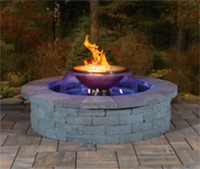 Water features
Install water features and create the perfect outdoor oasis. Consider a waterfall or fire & water kit to add a relaxing section into your outdoor space. The soothing sound of water will allow you and your guests to sit back and enjoy the space.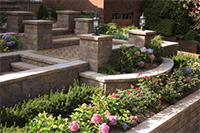 Built to last
When homeowners are planning their renovations, they want to create spaces that will last long-term. While planning, homeowners are still concerned about being cost-effective and not having to lug furniture in and out of storage for each change in the season.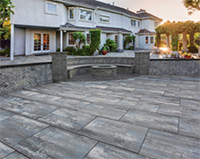 Contemporary style
Contemporary styles are trending for the 2019 year. Some examples of this design are large format pavers, monochromatic tones, and the "greige" (gray and beige mix) color. Contemporary designs give off a smooth finish, making your outdoor space look very aesthetically pleasing.