Hosting a "Lit" Backyard Bonfire Party
May 03, 2019
Summer is the perfect time to sit back, relax, and enjoy a bonfire with your family and friends. Host the perfect backyard party with a firepit from Cambridge Pavingstones. Backyard bonfires are the easiest parties to throw together. Since you are hanging outside for the duration of the night, there is no mess indoors, and no need to go crazy planning or decorating. Here are some tips to host a "lit" backyard bonfire party!
Make S'mores
Please your guests with all the fixings, because who doesn't love s'mores?! Gather around the bonfire, roasting marshmallows and sharing stories with your friends and family. All you need to make an awesome s'more is skewers, marshmallows, graham crackers, and chocolate bars.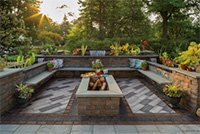 Have plenty of Seating
One of the most important things to consider when planning a bonfire party is seating. Having enough seating for all of your guests is crucial. As a host, you need to make sure your guests are comfortable. Having ample seating options for guests, will make them feel more at home and enjoy their night more.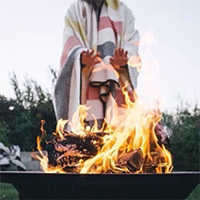 Bring Out Lanterns and Blankets
Making sure your guests are comfortable isn't just about seating. Other things to help your guests feel at home can be blankets and lanterns. Even with the fire going, it can still get chilly in the backyard at night. Having blankets ready will let guests get cozy and enjoy the bonfire even more. Consider bringing some lanterns or torches around the yard to add more light to the bonfire party!