How to Throw the Perfect Outdoor Graduation Party
June 02, 2019
With the start of June, comes graduation season. With graduation season starting, comes graduation parties. When planning a graduation party, there are a lot of things to take into account. Food, drinks, music, activities, and decorations, are all important aspects to keep in mind. The backyard is the best place to host a graduation party. Being in the comfort of your own home makes hosting a breeze! With an outdoor kitchen and bar, you can eliminate the mess indoors.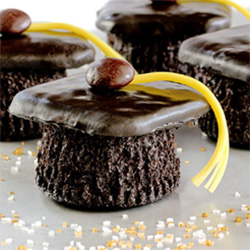 When planning your party menu, think of the essential party snacks and appetizers. Chips, dips, and other snacks like pretzels and pasta salads are perfect for the occasion. Also consider the graduation theme and how to incorporate that into your menu. One themed dessert idea is graduation cap cupcakes.
What you'll need is:
• 1 box cake mix (and the corresponding ingredients)
• 1 can dark chocolate frosting
• 2 teaspoons black food coloring
• 12 graham crackers halved (24 squares)
• 24 2inch pieces of string licorice (cut into tassels)
• 24 round chocolate candies (Junior Mints or dark brown M&Ms)

Directions:
• Prepare cupcakes according to box and let cool
• Microwave frosting until melted, adding in black food coloring until desired color is reached
• Dip graham cracker squares into melted frosting and let them stand until frosting is firm
• Place cupcakes upside down on a serving platter and use a drop of frosting to secure graham cracker square to the top of the cupcake
• Place a licorice strip and a chocolate candy on top of each, securing it with a drop of frosting (recipe and photo courtesy of mccormick.com)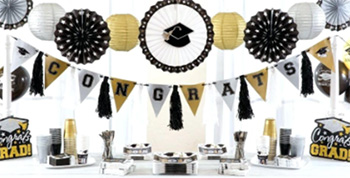 When planning, also consider who your guests are. At a graduation party, there will likely be a range of age when it comes to the guest list. You'll have family members, friends, and teens, so you have to plan accordingly. Foods that are easy to prepare are always a good option when hosting an outdoor party. Setting up the food in a buffet style will also eliminate stress and allow for guests to eat as they come and go.
When it comes to entertainment, music and games are a must! Having music playing in the background of the party will keep the energy up. Games around the yard such as corn hole or Frisbee will keep any younger kids entertained.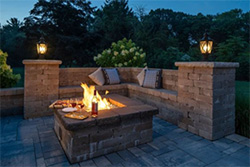 You can't throw a party without decorations! Incorporate school colors or keep with the graduation theme when picking the balloons, tables and paper products. Speaking of tables, make sure you have plenty of tables and seating for all of your guests to make sure everyone is comfortable. One more thing to consider is putting up a tent. Summer weather is never guaranteed, so putting up a tent can shield from rain or sunshine that's too intense.
Want to keep the party going all night? Consider lighting a bonfire in your Cambridge fire pit, and make sure your guests are comfortable once the sun goes down. You can even get the fixings for s'mores to keep the party alive for longer.
Hosting any type of party is a stressful job, and it can take weeks to fully prepare. But with these tips, this graduation party season should be a breeze for everyone. Even with the stress, don't forget to have fun and enjoy!