Using Landscaping and Hardscaping to Create the Perfect Outdoor Space
June 03, 2019
When planning your outdoor space, making it look as perfect as you can is always the end goal. Adding in new products and colors can brighten up your space for the summer season. Revamping your space will be a breeze with these landscaping and hardscaping tips!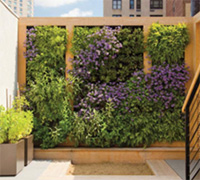 Landscaping
The technique of vertical gardens is a way to work with a limited space, by building upwards to incorporate plants, instead of spreading out. This also creates additional privacy in the living space it is built around.
Coordinate the color of your landscaping with the colors of your pavingstones. The color scheme of your landscaping can make a big difference.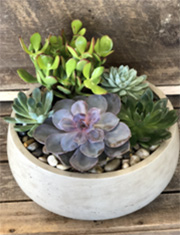 One underrated way to add plants into our yard is by creating a succulent garden. Succulents are low maintenance plants that create a unique look. They are perfect to put in pots, making them an easy plant to move around and relocate based on the season.
When choosing what to plant in your yard, plant useful plants. Planting wisely can help cut grocery costs. It makes sense to plant vegetables and herbs that can be useful.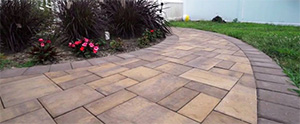 Make your outdoor space pet-friendly by adding in curvy walkways. These will look nice in your space while also adding a path for your pets to explore. You can also add fresh water features to give your pet a fresh water source, which also looks aesthetically pleasing in your space.
Hardscaping
Hardscaping refers to the "hard" more permanent areas of your backyard. Before you begin to break ground, weigh all of your possibilities. Hardscaping is more permanent than landscaping, so a lot of thought should go into it. This can help to create a unique and personalized look in your backyard.
Hardscaping trends for the summer: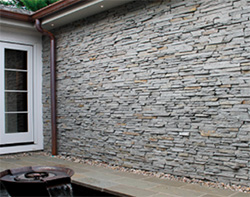 Creating spaces with natural looking stone is a trend for the summer. This is when contractors use manufactured stone that looks like natural stone. Cambridge Pavingstones with ArmorTec follows this trend with the Natural Stone Collection. Choose from the Natural Travertine products, a natural looking stone veneer, or boost your curb appeal with Natural Stone steps.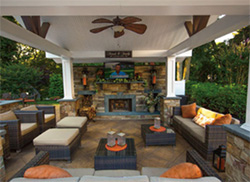 Another trend for the summer is bringing the indoors outside. This can be done by creating living spaces right in the homeowners' backyards. Create an indoor outdoor look with a custom pavilion. Add an outdoor television and some comfortable couches underneath to protect from the weather and enjoy the space all year 'round.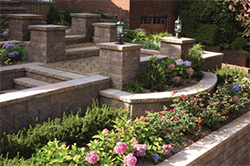 One way to combine landscaping and hardscaping is by adding in a retaining wall. Mix up the landscaping and bright colors with a sturdy wall. Switch up each layer by alternating between plant layers and layers of pavingstones. If you are installing a single layer wall, top it off with some flowers to add a pop of color.