How to Illuminate your Outdoor Living Space
July 02, 2019
Illuminating your outdoor space is an important part of any renovation. Before deciding what types of lighting features to add into your space, you should consider where. The best type of lighting for your space may differ depending on the type of space.
There are areas in your outdoor living space where lighting is very important: Making sure your entertaining area is illuminated is crucial to ensure the party can continue throughout the night! Adding a Cambridge firepit or fireplace to the center of the area can create ambiance and warmth for family and friends as the temperature drops.
You also want to illuminate certain areas including edges between surfaces, changes of heights such as stairs, decks, and the edges between the pool and patio.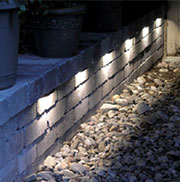 Also consider adding lighting to areas that keep your home safe and secure like your front and back door as well as your garage area. Bright lights will deter unwanted visitors while providing a guiding light for friends and family who are walking at night.
There are many different lighting options offered by Cambridge. From hardscape lighting kits to eco-friendly solar powered pavers, Cambridge has something for every outdoor space.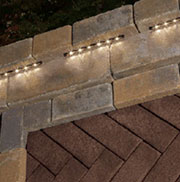 Hardscape lighting kits showcase treads, wall systems, columns and pillars without the fear of bulbs burning out. Cambridge LED Hardscape Lights are rated to last 50,000 hours and are designed for easy installation, removal, and replacement.
The LED iluma Under Rail light kits are pre-made light strips that come in 3" or 6" lengths. The bulbs are strategically placed for optimal lighting, and are made to blend into most materials.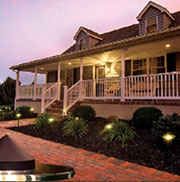 Cambridge's LED Path light kits brighten walkways and garden beds. These act as accent lighting for the perimeters of any outdoor pavement. Each path light kit includes 5 die-cast aluminum fixtures available in choice of 2 styles (glass and hat).
The LED uplight kit is designed to illuminate focal points in your outdoor space, such as trees, shrubs, and other architectural details. Each of these uplight kits includes 4 lighting fixtures.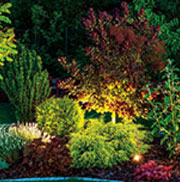 An innovative, "green" lighting option offered by Cambridge are the SolaGlo Pavers. These pavers are a sustainable alternative to both conventional solar and AC-powered paver lights. There are no wires and no bulbs, with this permanent surface treatment that glows in the dark. The SolaGlo Pavers are permanently affixed by Cambridge to our 6x9 pavingstones.
The different lighting products offered by Cambridge are used for different instances. If you are trying to be more environmentally friendly, try the "green" option of a SolaGlo Paver. If you want to light up a specific section of your outdoor space, check out the complete line of AC-powered lighting offered by Cambridge. This line includes paver lights, wall/tread lights, corner/column lights, and pergola lights.
The unique lighting options offered by Cambridge can be used for all different types of outdoor spaces. The versatility of these products is perfect for any type of outdoor space. Lighting is an important aspect to any outdoor space, so make sure to check out these tips and products when revamping the lighting in your space!