Fall Comfort Foods to Cook in your Outdoor Kitchen
September 01, 2019
Between the cool weather and comfy sweaters, Fall is the perfect time for your favorite comfort foods! Try out these recipes while utilizing your Cambridge Outdoor Kitchen.
Pizza is always a go-to comfort food. Using your Cambridge pizza oven, making your own is easy! Create unique combinations that everyone in the family will love.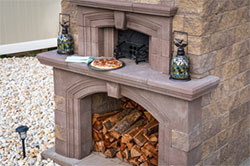 Ingredients:
• Pizza Dough
• Sauce
• Mozzarella Cheese
• Other toppings as desired

Directions:
• Preheat pizza stone in the oven at 475 degrees for 30 minutes to an hour
• Divide the dough and roll it out to the size of your desired pizza
• Spread the sauce and desired toppings onto the dough and place in the oven
• Bake pizza until the crust is browned and the cheese is golden (about 10-15 minutes)
(Recipe and photo courtesy of simplyrecipes.com)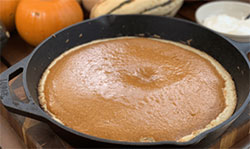 Pumpkin pie is a fall staple! Perfect your recipe this season with lots of practice. Did you know you can make pumpkin pie on your outdoor grill?!
Ingredients:
• 2 lb whole pie pumpkin
• 2 eggs
• 1/2 cup packed dark brown sugar
• 1/3 cup white sugar
• 1/2 teaspoon salt
• 1 teaspoon ground ginger
• 1/4 teaspoon ground nutmeg
• 1/4 teaspoon ground cloves
• 1/8 teaspoon ground cardamon
• 1/2 teaspoon of lemon zest
• 2 cups of pumpkin pulp puree
• 1 ½ cup heavy cream
Crust
• 1 ¼ cups all-purpose flour
• 1/2 teaspoon salt
• 2 teaspoon sugar
• 1 stick chilled unsalted butter, cut into inch-sized cubes
• 3 to 4 Tbsp chilled water

Directions:
1. Set your grill for indirect heat to 425°F. Use a large cast-iron skillet and make a pie shell with the crust when ready.

2. Use a large bowl to beat eggs, mix in sugars, salt, spices (cinnamon, ginger, nutmeg, cloves, cardamom) and lemon zest. Mix in the brown sugar, white sugar, and salt. Now, add pumpkin and cream. Stir in the cream, with folding movements. Beat together until everything is well mixed.

3. Pour the filling into pie shell and place the cast-iron skillet onto your grill. Bake at a high temperature of 375°F for 40 minutes. The pumpkin pie should be done when the center of the filling reaches 175°F. (Recipe and photo courtesy of fogocharcoal.com)
You can never go wrong with Mac & Cheese. Add a smokey flavor by cooking it on the grill!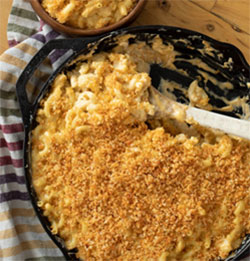 Ingredients:
• 1 pound elbow macaroni noodles cooked according to package instructions
• 1/2 cup butter
• 4 Tablespoons flour
• 1 Tablespoon mustard powder
• 2 cups half and half
• 4 oz cream cheese
• 3 cups cheddar
• 1.5 cups gouda
Bread crumb topping
• 1 cup panko bread crumbs
• 1/4 cup butter
Directions:
1. Bring a large pot of salted water to a boil and cook macaroni noodles until they are al dente, meaning they still have a bit of chew and texture (not too soft).

2. Preheat your smoker to 225 degrees F using a mild hardwood. My favorite is cherry or apple.

3. Heat a 12 inch cast iron skillet over medium heat. Melt 1/2 cup of butter and whisk in the flour until a smooth, thin paste forms. Then whisk in the mustard powder.

4. Carefully pour in the half and half and bring up to a boil while whisking. Reduce the heat and whisk in the cream cheese until smooth.

5. Whisk in the cheddar cheese and gouda cheese and stir until melted. Turn off the heat and pour in the cooked macaroni noodles. Stir gently until the noodles are coated by the cheese sauce.

6. Combine the melted butter, sweet rub, and panko bread crumbs in a small bowl. Sprinkle over the top of the mac and cheese.

7. Place the skillet in the smoker, close the lid, and smoke for 1 hour. You can smoke for up to 2 hours if you want a stronger smoker flavor, but the noodles will take on quite a bit of smoke fairly quickly. (Recipe and photo courtesy of heygrillhey.com)