What Backyard Fits Your Lifestyle?
May 16, 2017
There are many walks of life, but everyone has a need to relax in the comfort of their own outdoor living space. Whether it's relaxing by the pool or enjoying a drink at your backyard personal bar kit, Cambridge understands your desires and can provide outdoor solutions for many kinds of lifestyles.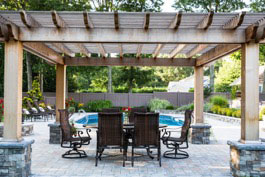 Recently tied the knot?
Commemorate your new life together by upgrading your outdoor living space and making the most of your shared home for years to come. A Cambridge Bar Module Kit is exactly what you need to celebrate with friends and family and make every outdoor experience memorable. Set the right atmosphere to your backyard by including a Cambridge Pergola to cover either your new Bar Module Kit or a hot tub. Cambridge offers Pergolas in a variety of shapes, sizes and colors to ensure that each backyard experience is unique in its own way. The addition of a Cambridge Bar Module Kit and Pergola will be the cherry on top of your new home as a married couple.
Are you a little farther into your marriage and have to accommodate for more than two?
Create an outdoor living room that you'll be able to share with your whole family. Give your family an outdoor meal they will enjoy time after time with one of Cambridge's Outdoor Kitchen Kits. Cambridge offers fully assembled and pre-packaged kitchen kits in a variety of colors and appliances that will make your outdoor kitchen the crown jewel of your backyard. Being able to have a campfire ready at all times in your backyard will bring you and your family that much closer. Try one of Cambridge's fully assembled fire tables or fire pits to bring the family together for a fireside chat.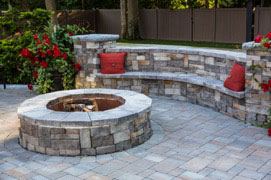 For families with teens and young adults, you'll need an outdoor living solution that will provide entertainment that will last.
Go for amenities that can be appreciated by all age groups. Additions such as a pool patio with a fire pit will provide the right touch to make sure that your kids will enjoy your backyard for years to come. Cambridge Pavingstones surpass the standards for slip-resistance set by the Americans With Disabilities Act. Our technologically-advanced ArmorTec provides even more durability and skid-resistance than ordinary pavers. Cambridge also offers several kids of fire tables and pits so you can pick the one that is the right fit for your yard. They include: fully assembled Cambridge gas fire tables, gas burning fire pits and wood burning fire pits.
These are just some of the many outdoor living solutions Cambridge has to offer. With so many options, you'll be able to transform your backyard into an actual outdoor living room. Make your outdoor living space the spot your friends and family will want to be at this summer and for many seasons to come! Even if some of these options look like they might be too tall of an order, Cambridge can provide some of these amenities in smaller sizes to fit a smaller patio. No matter what kind of lifestyle you may have, Cambridge has you covered.