How To Set Up a Romantic Outdoor Dinner for Two
May 10, 2017
If you're looking to do something special for someone special in your life, a crowed restaurant on a Friday night doesn't exactly scream romance. Not to fear, your solution is closer than you think! An outdoor living space may be the perfect location to celebrate the people you love in your life. What better place to enjoy the company of your significant other than the privacy of your own patio?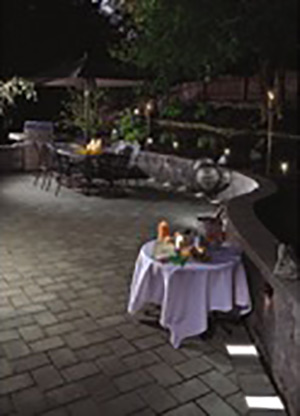 Here are some tips to transform your outdoor living space into a romantic outdoor dinner for two:
Set the mood:
First off, set the mood! Nothing says romantic like dim lighting and candles. Cambridge Pavingstones with ArmorTec offers LED & solar lighting including hardscape kits, under rail kits, path light kits, uplight kits more. Outdoor lighting can make the difference between a dull night and a magical one. If you're looking for the ambiance, but aren't ready to invest, you can also buy string lights or lanterns at your local home improvement store and use them for temporary decoration.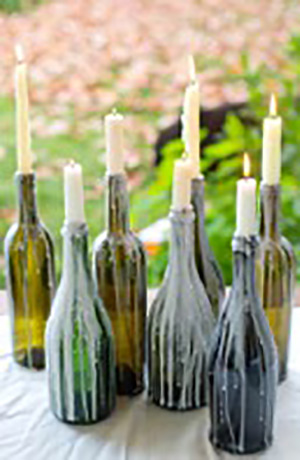 Now to turn up the heat! Light up your fire place or fire pit and create a custom candle center piece like the one in the picture above. Not only will fire features brighten your patio, but will also provide a warm solution to a chilly night. To create this specific piece, place taper candles in assorted empty wine bottles. Burn them for a couple of hours and let the wax run down the sides. A creative and classy-looking idea that won't break the bank.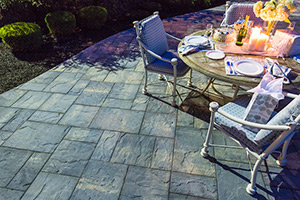 Placement is Key:
The second most important aspect of a romantic dinner is the table setting. Leave the paper plates and cups in the pantry and bring out the china! Special occasions call for special arrangements, so choose a theme. Choosing a color or style will help bring things together and make the overall placement more appealing. You can go for an elegant theme and give your patio the look of a 5-star restaurant. You can also step out of your comfort zone and do an outdoorsy theme by incorporating mosquito netting curtains, leaf napkin holders, bamboo table mats and earthy colored plates.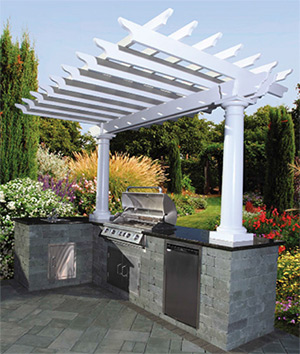 Feed your souls:
Finally, it's not a candlelit dinner without food! Cambridge Pavingstones with ArmorTec has a wide selection of outdoor kitchen kits, bar kits, and pizza oven kits. New to Cambridge in 2017 is the Coyote Asado Cooker featuring a 304 Stainless Steel Coyote Signature Smoking Grate. This cooker has a smoke, sear and grill option. If you want to avoid running in and out of the house, investing in one of these kits may be the solution.
If you want to do something new and creative for your loved one this season, follow these tips to transform any outdoor living space into a romantic spot for two.
Photos courtesy:
www.curbly.com
simplepracticalbeautiful.com